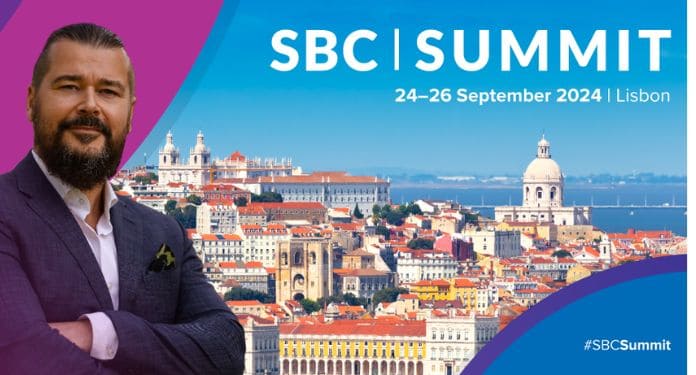 SBC's flagship global event, the SBC Summit, will have a new headquarters in Lisbon from 2024 in order to meet the demands of the industry's fastest-growing gathering.
Previously known as SBC Summit Barcelona, ​​the upcoming event will be called SBC Summit 2024 as the branding has evolved to better reflect the global nature of the event.
The event is a global gathering that transcends borders, offering a warm welcome to participants from around the world and spanning multiple industry sectors.
Taking place over three days, from 24 to 26 September 2024, at the Lisbon International Fair (FIL), the event is expected to occupy more than 100,000 square meters of exhibition and conference space, which is more than double the size of the location of 2023, with 38,000 people.
This expanded capacity allows SBC to host 600 exhibitors, almost doubling the number hosted in the 2023 edition.
With the venue's expanded capacity, the SBC Summit will now accommodate 25,000 attendees at FIL.
This diverse audience will include operators, affiliates, sports betting and casino providers, regulators, payment providers, marketing agencies, associations, legal advisors, start-ups and more.
Rasmus Sojmark, CEO and Founder of SBC said: "The decision for a new venue for our flagship event was driven by its remarkable growth, which has clearly surpassed the capacity of Fira Barcelona Montjuïc, as well as the praise and support from customers and stakeholders of the industry.
When we say it's the fastest growing event in the industry, we mean it, which is why finding the right location and city was absolutely essential."
The expansion of the SBC Summit
The event's expansion into the exhibition area does not undermine its commitment to providing the best experience for delegates.
The conference will feature eight stages and 500 speakers, including the largest gaming stage with seating for thousands of delegates.
The event will also offer the ultimate gaming hospitality, with food trucks serving local and international dishes and drinks 24 hours a day.
There will be plenty of networking and business opportunities in many bars, coffee shops, ice cream shops, a beer garden, a beach bar, fun and games zones and much more.
Maria João Rocha de Matos, General Director of FIL said: "We are excited to host the SBC Summit in Lisbon in 2024. At FIL – Lisbon Convention and Exhibition Center, we are committed to providing world-class facilities and support to ensure this The event is simply spectacular."
"Our team is committed to working closely with SBC and its community to create an unforgettable experience in our beautiful city," she said.
He adds: "We can't wait to showcase everything that FIL and Lisbon have to offer and make the SBC Summit a resounding success for many years to come."
The city of Lisbon
Lisbon, one of the oldest cities in Western Europe and a global historical gem, welcomes more than six million tourists annually and is known for its warm and welcoming inhabitants.
The city offers a seamless transport network, and although Portuguese is the official language, English is widely spoken in important areas.
Lisbon's culinary scene stands out as one of the main reasons to visit, and the place itself is surrounded by a vibrant array of bars and restaurants, with over 20 options within walking distance.
Considering the global nature of the event, Lisbon is also the perfect choice for its extensive air connectivity.
Humberto Delgado Airport, conveniently located just 4 km from FIL, offers direct connections to 136 airports worldwide, including direct routes to major hubs in the US and South America.
"The city and FIL host the Web Summit, which annually brings together more than 70,000 participants and transforms the city into a technology hub, and it was an immediate and obvious choice," he said.
"We knew that FIL had all the essential elements to expand our event while maintaining accessibility and maintaining the high quality standards we have set for ourselves. I am excited for what lies ahead. This is a unique moment for SBC and we are embracing it wholeheartedly," Sojmark added.