In the broader sports betting landscape, we are witnessing significant growth, with over the last year alone, we reached a milestone of record proportions, with over 14 billion hits registered globally.
What makes this feat truly surprising is the leadership position occupied by Brazil in this global ranking, boasting an impressive contingent of 3.19 billion accesses, equivalent to a slice of 22.78% of the total.
These insightful revelations emanate from a study published by the CupomValido platform, based on data provided by SimilarWeb.
The magnitude of engagement on the part of Brazilians is so expressive that it almost doubles the second place, that is, the British, who add up to 1.61 billion accesses.
The third position is occupied by Nigeria, with 1.29 billion accesses.
Deploying on this journey of discoveries, we come across a scenario of great interest in Brazil.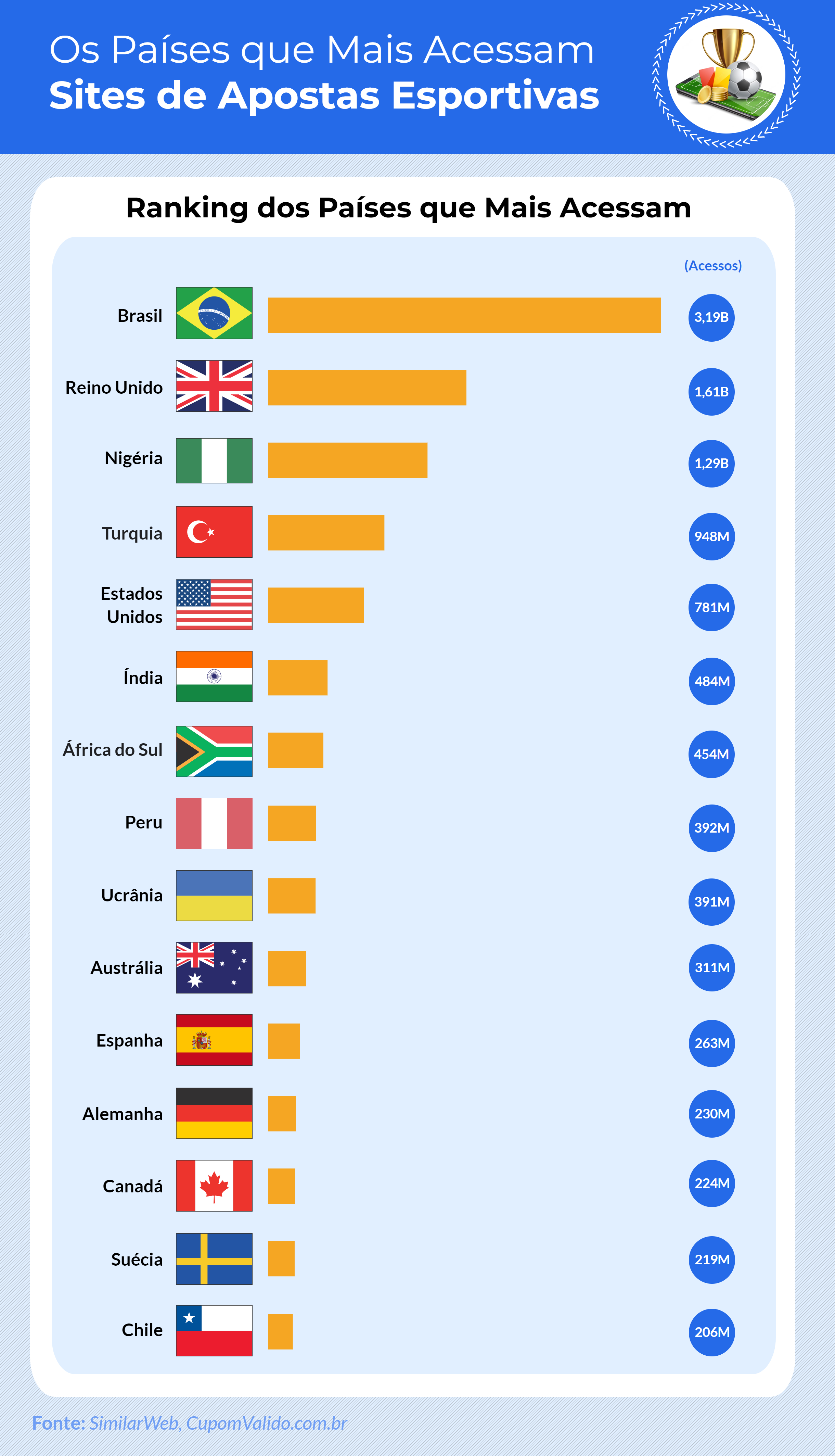 Over the last year, the Brazilian public's excitement towards sports betting sites has experienced an increase of over 75%, a rise fueled mainly by the fervor of the World Cup.
This notable growth is only surpassed by the performance of Chile, which registered a significant increase of 100% in the volume of accesses.
Since the year 2018, marking a turning point with the regulation of the sports betting sector, the segment has witnessed a significant expansion.
Currently, the panorama reveals the presence of 238 betting platforms in the Brazilian territory.
Among these, it is the state of São Paulo that leads in terms of access to sports betting sites, closely followed by Minas Gerais, Paraná, Rio de Janeiro and Santa Catarina.
Brazil: a big market for the sports betting sector
What emerges from this rich global sports betting scene is the unquestionable prominence of Brazil, exerting an invitation to attention through its unrivaled access numbers and high engagement.
This interaction evolution curve is presented as proof of the global growth of sports betting.