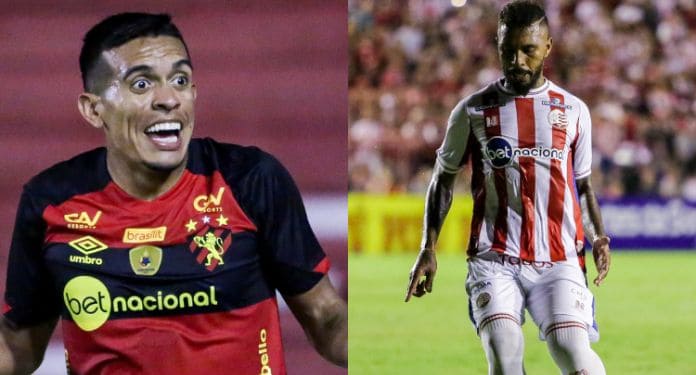 Next Thursday, June 1, at 11:00 am (Brasília time), by decision of the Superior Court of Sports Justice (STJD), the judgment of eight football players investigated in Operation Penalty Maximum II, which investigates a scheme of match-fixing for profit with sports betting.
The following players will be judged: Moraes (Aparecidense-GO), Gabriel Tota (Ypiranga-RS), Paulo Miranda (without club), Eduardo Bauermann (Santos), Igor Cariús (Sport), Fernando Neto (São Bernardo), Matheus Gomes ( without a club) and Kevin Lomónaco (Bragantino).
In this case, there is a risk of suspension of up to 720 days and banishment for certain players.
The punishment of Article 243 can generate suspension of athletes between 180 and 360 days. In addition, the 243-A provides suspension between six and 12 games. There is also the possibility that everyone will be punished with a fine of R$ 100,000 for each article. Sanctions are cumulative, in accordance with the Brazilian Code of Sports Justice (CBJD).
Remembering that the players mentioned are suspended in a preventive way by the president of the STJD, Otávio Noronha. The decision was taken on the 16th, and is valid for 30 days.
The athletes were denounced by the Attorney General's Office in three CBJD articles:
Art. 191. Failure to comply, or hinder compliance: III – regulation, general or special, of competition.
Art. 243. Deliberately acting in a way that is harmful to the team he defends. § 1 If the infraction is committed upon payment or promise of any advantage, the penalty will be suspension of three hundred and sixty to seven hundred and twenty days and elimination in case of recurrence, in addition to a fine of R$ 100.00 (one hundred reais) to BRL 100,000.00 (one hundred thousand reais).
Art. 243-A. Acting contrary to sporting ethics in order to influence the result of a match, competition or equivalent.
Defender Kevin Lomónaco, from Bragantino, and lateral Moraes (ex-Juventude), made an agreement with the Public Ministry and became witnesses in the case. Decision regarding research outside the sports field. Among the eight players who will be judged, the only one who was still in action for his club before the removal of the STJD was Igor Cariús, at Sport.
What is Operation Maximum Penalty II
Brazilian football has returned with everything to the police pages with the Maximum Penalty Operation, which investigates manipulation and undue actions in the most popular sport in the country.
The operation carried out by the Public Ministry of Goiás (MP-GO) investigates a scheme involving criminal groups that made money from bets related to specific bids in matches of Series A and B of the Brazilian Championship, in addition to matches of state tournaments.