PlayGreen has a special promotion for gamblers. Until today (15), the bookmaker holds the "G6 Challenge", which will award BRL 500.00 in bonuses to players who correctly match the exact positions of the G6 of Série A of the Brasileirão 2023. The winners will be announced on the day December 15, after the last round of the national competition.
To win the prize, the player will need to pin the top six in Serie A, in the correct positions, at the end of the championship. After selecting the position order of each team, the bettor must enter the telephone number, contact email and CPF to receive the prediction made.
"The G6 Challenge is an opportunity to get closer to the local gambler and show our identity. With Brazilian DNA, we want to offer the best experience for the player, with an intuitive platform and interface, in addition to special offers and resources to add entertainment to the fan ", points out Marcos Araujo, CEO of PlayGreen.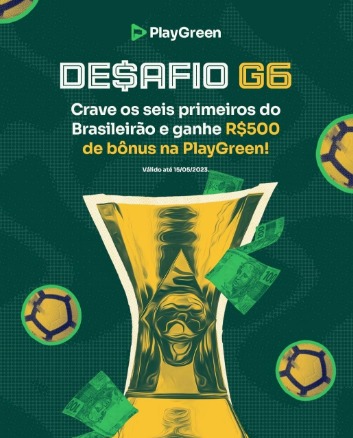 In addition to offering bonuses for the Brasileirão, the company has an innovative feature for Brazilian gamblers. Known as "Hot Bets", the product has quick bets – created and selected by specialists – on the main daily sporting events and aims to facilitate the bettor's decision, with operation similar to the Tinder relationship application.
Developed by Brazilians, PlayGreen is an online sports betting platform based in São Paulo and has a product prepared to offer the best possible support to Brazilian players.
About PlayGreen
PlayGreen is the best online sports betting platform. Behind the company is a young team that brings confidence in the gameplay closer to the user. PlayGreen is a unique place where you can jump from sports betting to casino and back to poker, or try your luck with eSports. The company's main objective is to present safe and innovative methods in the iGaming environment.