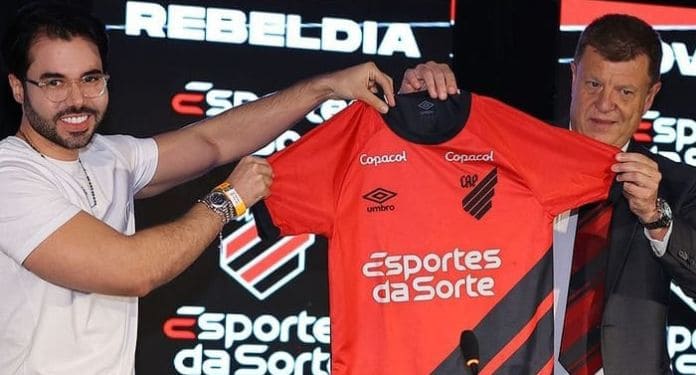 Club Athletico Paranaense announced its new master sponsor. The Esportes da Sorte betting platform will stamp the most noble space on the Hurricane uniform. In addition to the shirt, the brand will be on the club's main exhibition properties.
Esportes da Sorte is one of the fastest growing bookmakers between 2022 and 2023 in Brazil. It is a major investor in sports and entertainment in the country. Currently, it sponsors ten Brazilian football clubs, has ambassador athletes, in addition to being an official partner of the Campeonato Paulista and the Gaúcho Série A2. It was the main sponsor of the Copa São Paulo de Futebol Júnior this year.
The president of the Administrative Council and CEO of Athletico Paranaense, Mario Celso Petraglia, praised the new master sponsor of the club. "We are pleased and proud to count on Esportes da Sorte at this very important moment in the club's history. About to turn 99, Athletico expects to experience even more victorious moments alongside Esportes da Sorte", said Mario Celso Petraglia.
The CEO of Esportes da Sorte, Darwin Filho, also praised the agreement with Hurricane. "Athletico is a model club and exudes a business culture, modernism and innovation, values ​​that are also part of the DNA of Esportes da Sorte. by this administration for more than 20 years", stated the CEO of Esportes da Sorte.
Darwin Filho also commented on the sponsorship objectives. "We arrived here not to be another master sponsor, but to embrace Hurricane and build memories with its passionate fans. Expect a lot of support, interaction and activations with the faithful Red-Black fans. Our goal is to help CAP so that, together, we reach the top of the Americas", he added.
About Esportes da Sorte
In football, Esportes da Sorte sponsors ten clubs (Athletico Paranaense, Bahia, Goiás, Grêmio, ABC, América-RN, Grêmio Novorizontino, Guarani-SP, Vila Nova-GO and Londrina), in addition to having some athletes as ambassadors, such as Matheus Cunha and João Gomes, from Wolverhampton-ING, and Rodinei, from Olympiacos-GRE. It also sponsors the Flamengo eSports team. It is an official partner of the Campeonato Paulista and the Gaúcho Série A2, and was the main sponsor of the Copa São Paulo de Futebol Júnior this year.
In 2023, the platform became the official sponsor of Big Brother Brasil, being the first and only bookmaker to be linked to the main entertainment program on Brazilian television, and will also be one of the six partner companies of TV Globo in the Copa Libertadores this year. year.
Esportes da Sorte also invests in entertainment, with partnerships with actor and digital influencer Carlinhos Maia, surfer Pedro Scooby, influencer Virginia and Dra Deolane Bezerra, and singer Zé Felipe. He is also an advertiser in FIFA competitions on Cazé TV, by youtuber Casimiro Miguel, and at Estúdios Flow, the largest podcast network in Brazil, with exposure on Flow Sport Club, Flow Games and Flow Podcast.
The company maintains commercials and advertising on sports channels such as SporTV and was a partner in some important events, including the Carnival in São Paulo, Rio de Janeiro, Minas Gerais, Salvador and Recife, and Farofa by GKay.