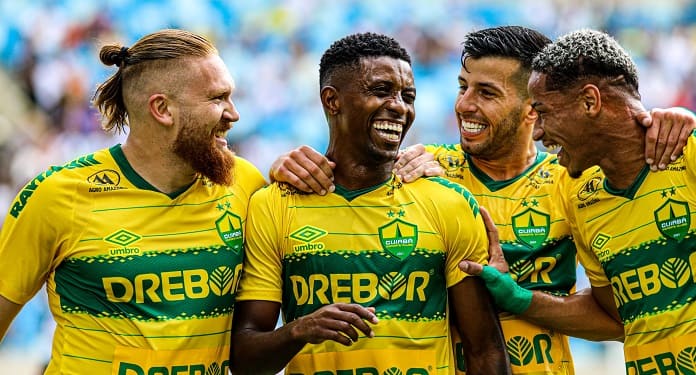 Cuiabá did not renew the partnership with a brand for the front bar of its uniform. With the market heated up by sponsorships from bookmakers, the team's intention, for the dispute in Serie A of the Brazilian Championship, is to negotiate with a company in this sector and obtain a significant increase in the collection of the values ​​of its shirt.
Last year, the club from Mato Grosso, which was already in the elite of national football, closed an agreement with a sports betting company, Luck.bet, which appeared in the shorts, but was also not renewed.

"We had an agreement with Sicredi since 2015. This year, we asked for an adjustment, but they were unable to reach the amount. We chose not to renew", tells Cristiano Dresch, vice president of Cuiabá, in an interview with Máquina do Esporte.
President claims that the club has already been probed by 15 bookmakers

Dresch also said that 15 bookmakers have consulted the club. Of these, according to the manager, four or five already sponsor other clubs in Série A of the Brasileirão. Today, ten companies in the sector have partnered with some time in the first division: Betano, Betfair, Betsson, Dafabet, Esportes da Sorte, EstrelaBet, MrJack.bet, Parimatch, Pixbet and Sportsbet.io.
"We ask for a value. I think companies are studying this value, which is compatible with a club the size of Cuiabá. We expect to announce the new sponsor within 30 or 40 days at most", said the director.
According to the president of Cuiabá, the only spaces still available on the team's uniform are on the front bar, which the club calls "master 2" and on the shorts. "In shorts, there will be a company from another segment [other than betting]. We already have a proposal. We are analyzing whether we are going to close now or wait a while to see if we can raise the value", he explained.
Participation in Serie A of the Brasileirão
Cuiabá will participate in Série A of the Brasileirão for the third consecutive year. Last season, the team finished in 16th place, one place above the four teams relegated to Série B (Ceará, Atlético-GO, Avaí and Juventude). In addition, Dourado became the first team from Mato Grosso to participate in a Conmebol competition, the Sul-Americana 2022.