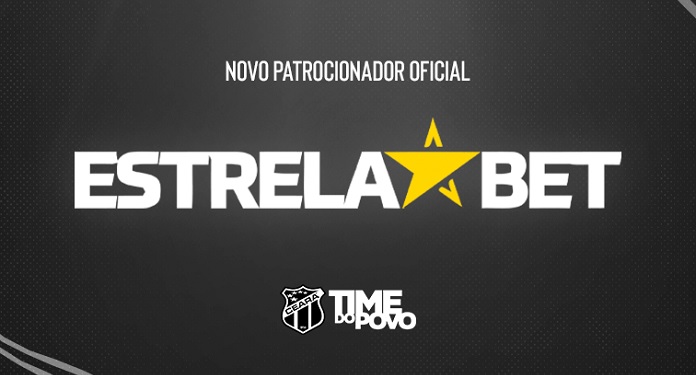 Ceará set up another partnership for 2023. A sports betting company, EstrelaBet is the newest partner of Alvinegro de Porangabuçu. The contract with its new sponsor will be valid until March 2025.
The official announcement of the partnership took place last Saturday, the 21st, in a video published on the social networks of the club and the company. The campaign talks about the feeling of being Ceará and the strength that Team do Povo has and gains with the arrival of EstrelaBet.
Director of Marketing and Communication at Vozão, Lavor Neto commented: "We always celebrate partnerships of this size. It will be a pleasure to stamp the EstrelaBet brand on our mantle. Now there are two forces that come together until 2025, but we hope that this partnership will last longer. The most important thing is that we have successful seasons for both Vozão and our partners".
Commercial Manager of Ceará Sporting Club, Ricardo Costa, detailed the work that will be developed during the contract period between the club and the company. "On behalf of Ceará, we thank EstrelaBet for believing that the club is a force to enhance their brand. We will continue until 2025".
"We will be aligned with them to develop actions, campaigns and works for the development of both brands. The arrival of EstrelaBet is yet another proof of the strength of the Ceará SC brand", added Costa.
Rafael Zanette, Head of Sponsorship at EstrelaBet, also commented: "Another partnership that will certainly bring positive results for both sides. We are very happy with the arrival of Ceará, a club with a huge history in Brazilian football and with a very passionate crowd. We will work to achieve the goals together. I'm sure good things are yet to come."
About EstrelaBet
Recently, the betting company announced sponsorship agreements with Ponte Preta and América-MG. EstrelaBet also has partnerships with Internacional (male and female), Villa Nova-MG, Botafogo-SP, Criciúma and Campeonato Mineiro, in addition to MMA fighter Fabrício Werdum, Magnus Futsal, CBF Futsal and Beach Soccer, and with teams from Sada/Cruzeiro volleyball for men and Minas Tênis for women.