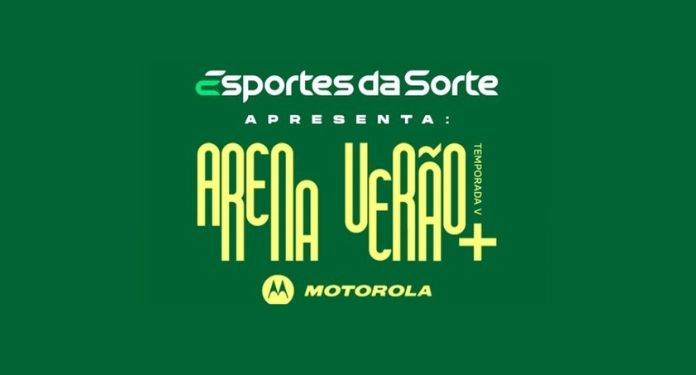 One of the most important and well-known beach sports events in Brazil, Arena Verão+2023, signed a sponsorship agreement with the sports betting site Esportes da Sorte.
This whole scenario will last almost an entire month on the popular beach of Ensenada, in Guarujá, on the coast of São Paulo, between January 27th and February 19th, with competitions and activations of different modalities presented by the company Motorola.
"We are very pleased with yet another major player in the market investing in the biggest beach sports event in Brazil. Welcome to Esportes da Sorte", says Fábio Wolff, member of the festival's organizing committee and partner of Wolff Sports.
Icaro Quinteiros, COO of Esportes da Sorte, says that this connection with an event as significant as Arena Verão+ is an important step for the company. "Sponsoring this tournament is a way for us to connect with other sports, mainly because of the appeal with the coastal environment of an audience passionate about sports," he said.
Activations
There will be a presentation of the betting site during the promotion of the event and some brand awareness actions are also part of the activation partnership, such as placing banners and LED panels, relationship actions in the box and lounge, and activations with the public during every day.
Esportes da Sorte has been growing in investments in Brazilian sport and mainly in national football. Not long ago, he announced master sponsorship for Bahia for 57 million, with a three-year contract (R$ 19 million per year). It is the biggest deal in the history of the club from Bahia and a team from the Northeast of the country.
The event
Arena Verão+ is in its fifth edition and the expectation is that more than 40,000 people will participate in the event, which will have state, national and international competitions in footvolley, beach tennis and beach soccer.
Admission is free every day so that the public can watch and practice the modalities. Gifts will be distributed, there will be shows with a screen for transmission of games, to contemplate the bathers who are around the Arena.
The Arena Verão+ has the approval of the São Paulo federations of the three sports, organized by the Vincere Institute, through the Sports Incentive Law and marketed by the agencies Goolaço and Wolff Sports. Arena Verão+ has Motorola as the main sponsor, taking the naming rights of the tournament. They will have other quotas: Algar, Apsen, Sabesp, Santos Brasil, Bic Soileil, Aiwa, Whey Fit, Lorenzetti and Super Quadra. Several games will be broadcast by SporTV. Check out the main attractions with channel transmission.
Schedule
Sportv will broadcast the games. See the main attractions broadcast by the channel:
Friday, 01/27
4pm – Match 1 (footvolleyball)
5:30 pm – Match 2 (Footvolleyball)
7pm – Match 3 (footvolleyball)
Saturday, 01/28
4pm – Match 4 (footvolleyball)
5:30 pm – Game 5 (footvolleyball)
7pm – Match 6 (footvolleyball)
Sunday, 01/29
10am – Match 7 (footvolleyball)
11:30 am – Game 8 (Footvolleyball)
1pm – Match 9 (Footvolleyball)
Sunday, 05/02
6 p.m. – Women's Final (Beach Tennis)
7:30pm – Men's final (Beach Tennis)
Sunday, 02/12
9am – Women's final (footvolleyball)
10:30 am – Legends Final (Footvolleyball)
12:00 – Men's 3rd place dispute (footvolleyball)
13:30 – Men's Final (Footvolleyball)
Sunday, 02/19
10am – 3rd place match (Beach Soccer)
11:30 am – Final (Beach Soccer)