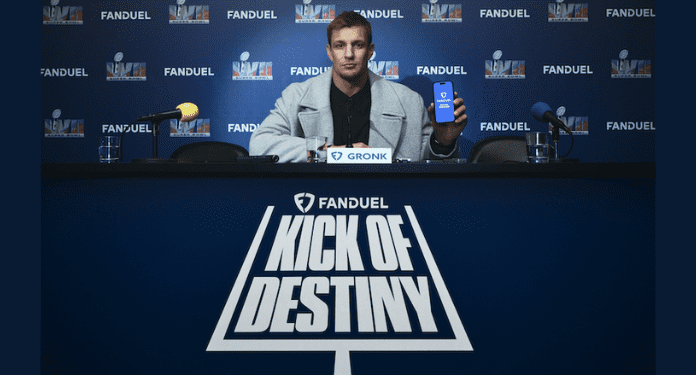 FanDuel has announced a new marketing campaign featuring four-time Super Bowl winner Rob Gronkowski. Dubbed the 'Kick of Destiny', the campaign will see Gronkowski return to America's biggest competition, only this time he will attempt to score a halftime field goal during a live commercial. The kick could earn a share of $10 million if a bettor hits Gronkowski's goal guess.
The campaign is FanDuel's first during the Super Bowl – in the ad break – and will also show Gronkowski training with a former NFL lineman to make the kick. FanDuel EVP of Marketing Andrew Sneyd said, "Whether it's the kickoff, a touchdown, or a key play that will decide a season, FanDuel knows that every moment matters."
"Our first Super Bowl commercial will be more than just a television spot – it will create a moment that will bring fans together and give them something to collectively root for. An unprecedented field goal attempt on live TV… where anything can happen," completed Sneyd.
Meanwhile, Rob Gronkowski added: "I've spent my career catching the ball, but I always knew I could kick it, and now I'll be doing it live in front of fans throughout the Super Bowl. With $10 million in wagers on FanDuel, I'm training every day to give the fans something to cheer for and see the 'kick of fate' live on national television."
About FanDuel
It is an innovative sports technology entertainment company that is changing the way consumers engage with their favorite sports, teams and tournaments. Regarded as one of the top gaming destinations in the United States, the group consists of a portfolio of leading gaming, sports betting, fantasy sports, early deposit betting and media brands.