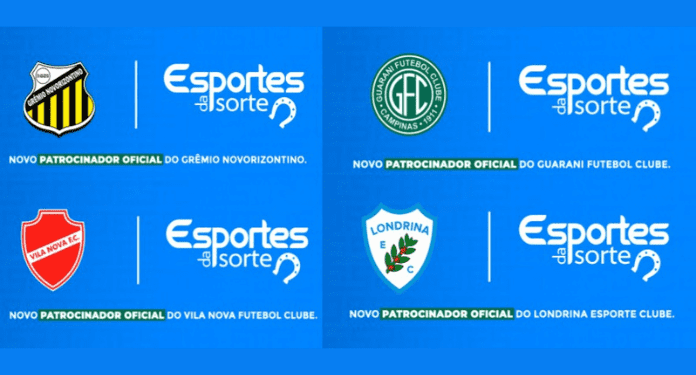 Esportes da Sorte, one of the main bookmakers in the country, signed a sponsorship agreement with four teams that will compete in Serie B of the 2023 Brazilian Championship: Guarani-SP, Novorizontino, Vila Nova-GO and Londrina. The agreement between the company and the clubs is valid until the end of next season.
"It is with great satisfaction that Esportes da Sorte announces these partnerships with four clubs, from three states. We continue to increase our presence on the Brazilian scene and support sports in the country. Partner teams have different, unique, but equally important trajectories. I'm sure we'll write a beautiful story together", comments Darwin Filho, CEO of Esportes da Sorte.
At Guarani, in Campinas, the company will stamp the brand on the main location of the alviverde shirt. On the Vila Nova and Novorizontino mantles, the logo will be on the back, above the numbering. In Vila Nova, the company will be present in both sleeves.
Esportes da Sorte has become increasingly present in the world of sports and entertainment. Today, the brand has surfer Pedro Scooby, influencer Virginia and singer Zé Felipe, striker Matheus Cunha, from Atlético de Madrid, among other names, as ambassadors. Recently, the company was also the master sponsor of the match between Rafael Nadal and Casper Ruud, held in Brazil.
About Esportes da Sorte
Esportes da Sorte is a betting site that offers sports betting as the main aspect, with a wide variety: football, basketball, volleyball, MMA, American football, ice hockey, cycling, handball, futsal, rugby and others.
The brand, which already has a consecrated space in the Brazilian market, also has a page dedicated to live betting, providing more emotion and interactivity for its customers. In addition to various games such as casino, virtual sports, live casino, eSports and much more.