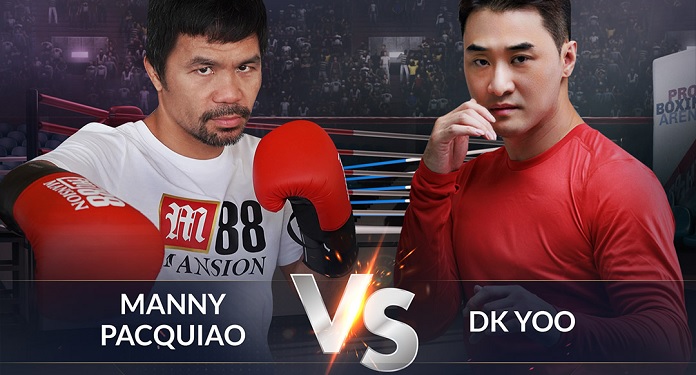 Manny 'Pacman' Pacquiao will face DK Yoo in a six-round fight in the middleweight division this Saturday, 10, at the Seoul Arena in Seoul, South Korea. Before stepping into the ring, Pacquiao took part in a training session with the M88 Mansion brand, Asia's online casino giant, inserted into its equipment.
The gaming operator is looking to continue its partnership with the eight-division world champion in future exhibition boxing matches and other engagements across Asia.
Additionally, the M88 Mansion posted a video highlighting the fighter's training routine ahead of Saturday's engagement. "Before sparring, I work with gloves with my dedicated trainers. That's how we refine our tactics for the next fights", explained Pacman.
In the audiovisual piece, Manny Pacquiao expressed his gratitude to the established online casino brand in Asia. "I would like to thank M88 Mansion for the great training session and all the support. Thank you for your help! I hope to see you all on the 10th of December".
Former player Gerrard became operator's partner for the World Cup
More recently, Steven Gerrard has also partnered with M88 Mansion for the World Cup. The gaming operator is exploring the image of the former English player and currently coach to promote its brand across the Asian continent during the competition with digital and face-to-face actions.
Gerrard said at the time: "I am delighted to be joining M88 Mansion as a Brand Ambassador for the World Cup. I couldn't be more excited to share my experiences from my time on the field, especially my views to Asian fans regarding the upcoming World Cup."
About the M88 Mansion
M88 Mansion is a leading online gaming entertainment platform in Asia, recognized for its diverse collection of sports betting offerings, slot games and table games, as well as live dealer casino games.
The group guarantees the continuous development of products with the help of more than a thousand professionals. The company, which has been in existence for 14 years, has earned a reputation as a trusted brand and serves one million customers in Vietnam, Indonesia, China, Thailand, Malaysia, Korea and Southeast Asia.