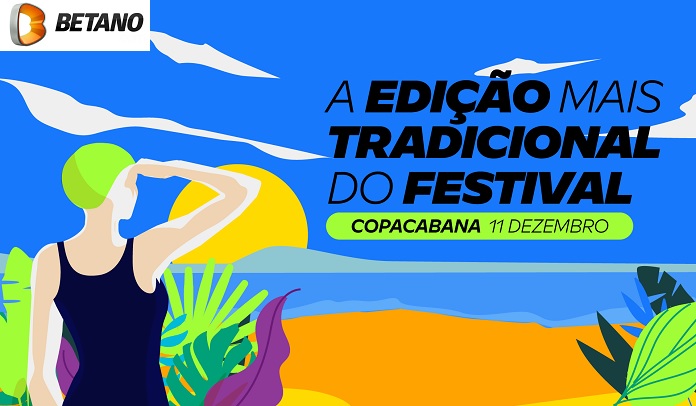 The 2022 edition of the King and Queen of the Sea takes place this Sunday, 11, in Copacabana, in Rio de Janeiro (RJ). The biggest beach sports festival on the planet will be full of news and will be sponsored by one of the most important bookmakers operating in Brazil, Betano.
In addition to the betting sector company, the sporting event will have other supporters. According to the signed contracts, the partners will be included in the communication of the King and Queen of the Sea and will be able to promote activations among the four thousand participants already guaranteed.
Acting in a spectacular scenario like the post 5 of Copacabana serves as a huge stimulus for swimmers from various parts of the world. Competitors from Germany, United Kingdom, Russia, Canada and Peru are already confirmed, in addition to athletes from 20 Brazilian states, including all regions of the country.
The King and Queen of the Sea is a unique sporting event, which includes competitions and attractions for all age groups. The event has been taking place since 2009, receiving thousands of athletes, including professionals and amateurs, in addition to offering an incredible experience, always in incredible scenarios on the Brazilian coast.
The competition has already become a tradition on the open water calendar. Several Olympic athletes have marked the history of Rei and Rai do Mar over the years: Ana Marcela, Poliana Okimoto, Allan do Carmo, Ferry Weertman, Rachele Bruni, Christine Jennings, Esmee Vermeulen, Aaron Peirsol, Keri-Anne Payne, Yasunari Hirai, Chad Ho, Oussama Meliouli. Furthermore, the festival was inspired by Tim Maia's song 'Do Leme ao Pontal'.
About Betano
Betano is an international online betting site, from the Kaizen Gaming group. Currently, the company does business in Brazil, Portugal, Germany, Romania, Greece and Cyprus.
In 2020, the bookmaker won three awards at the EGR Marketing & Innovation Awards, referring to its Responsible Gaming, Technology, Creative and High Quality Communication and Social Impact campaigns.