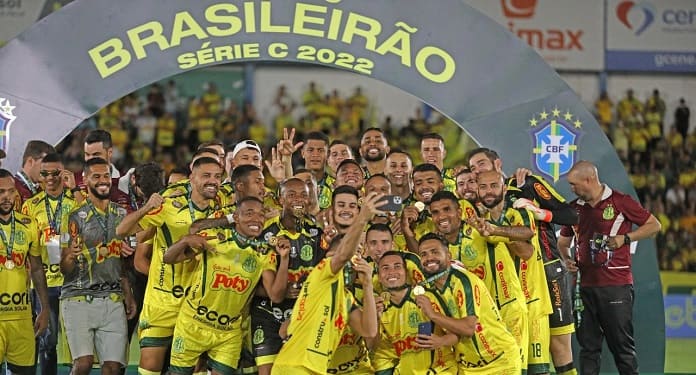 Fusion of sensations! That's what the union that took place this Thursday, the 01/12/2022. Mirassol, a team that for the first time in its history will compete in Serie B of the Brazilian Championship, joins a brand that will also be in the spotlight and will have the eyes of Brazil turned to it next season.
Bet7k's debut as an official sponsor of Mirassol came from two companies that have many things in common, and it can be said that it is a perfect marriage.
To begin with, both institutions had a clear vision of objectives and bet on smart and agile management, doing more with less and growing exponentially in recent years as brands.
Another point of coincidence is that now both will be in the main national division as rookies, since it is the first sponsorship in clubs among the 40 clubs in the Brazilian series A and B, as well as the first time that Mirassol competes in this competition in its 112 years of history.
The betting company will focus on positioning itself in important points and works very hard with its expansion, not only with this sponsorship but through ambassadors.
"When Bet7k came to us, and showed us its project, activations and interactions that it wants to have with our public, we saw solidity, professionalism and seriousness that we rarely see from sponsors, definitely Bet7k's values ​​are aligned with those of Mirassol" , said Júnior Antunes, Football Director at Mirassol.
"We continued to position ourselves little by little in the market, when we learned about the project and the seriousness, and the names that make up Mirassol, we were sure that more than wanting, we needed to be here in 2023. It is a historic moment. for both institutions and we are going to enjoy this together a lot, the fans will not regret it, we count on them to help us in our goals with Mirassol", said Matheus Bicalho Head of Marketing at Bet7k.
"We have no doubt how much this helps in what we are proposing as a company for next year. We know that Mirassol is a great club and being here, we are even more certain that this project is not only solid, but already a winner! We go together behind the elite as institutions", emphasized Talita Lacerda, CEO of BET7k.
About Mirasol
The club is currently two-time Brazilian champion, winning the Campeonato Brasileiro Série D in 2021 and Série C in 2022, qualifying for the first time in its history to compete in Série B of the Campeonato Brasileiro.
The team has its main athlete, Camilo. The midfielder played for major clubs in Brazilian football, such as Botafogo, Internacional, Chapecoense, Cruzeiro, Ceará and even the Brazilian national team. Outside the country, the midfielder played in Chinese football for Shanghai Shenxin, in 2011, Al Shabab of Saudi Arabia between 2015-16.
About Bet7k
Bet7k is a Brazilian company, which has more than 200 thousand active users in Brazil, and promises to come with great news for the year 2023. They present a huge range of Casino and Online Casino games ranging from Roulette, Blackjack, Crash games, Slots and other modalities.
The site also has a wide range of sports betting, and it will be possible to bet on Mirassol through Bet7k next season. The house currently receives deposits via Pix from R$1.00, and has a very aggressive offer of a 100% bonus on the first deposit of up to R$1,200.00 through its website.