The end of the season was tense for Vasco da Gama fans, who fought until the last matchday to return to the elite of national football. In this period of strong emotions, some fans made promises and bets. In a bet, teacher Rafael Viola got his whole class to wear Giante da Colina shirts.
Passionate about Vasco, he, who teaches at a law school in Rio de Janeiro, promoted a game with the students. "We have a very good relationship, which goes beyond the fact of just transmitting the content. It is a very dear group. As I am very Basque, we always touched on the subject of football in some way. I told them: if you go up, everyone will have to come with Vasco's shirt for the second test, without exception.", told UOL Esporte.
Vasco da Gama beat Ituano in the 38th round of Série B and will be in the first division of the Brasileirão in 2023. Therefore, the students had to do their part. "It went up, they organized themselves and made this surprise. I couldn't believe it when I saw everyone with Vasco's shirt", said Rafael Viola.
Maria Rafaela Toledo declared that even fans of rival clubs embraced the idea. "The teacher has been with us for a year now. We joined him early, in the post-pandemic, and we established a relationship of great affection and play. He bet that if Vasco went up, everyone would have to be with Vasco in the test! Of course I cheered a lot. The Flamengo supporters were the ones who resisted the most, but bet is bet, and everyone entered", he explained.
From then on, movement began among the group so that those who had Vasco shirts could lend them to others. Maria Rafaela, from a Basque family, remembered the collection of the brothers Pedro Gabriel and João Renato.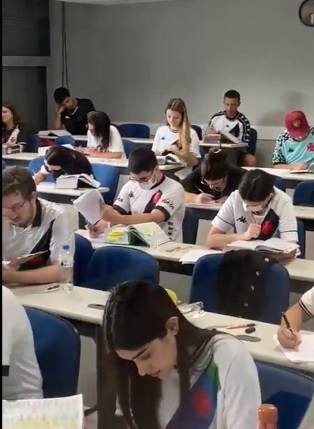 "Liking shirts and being Vasco fanatics, we have many of Vasco's, and I'm lucky because Vasco always launches the third shirt in the month of my birthday. She, knowing us, said: I think I have a shirt for everyone. She put 28 shirts in a suitcase and went to college as if he was going to travel", said Pedro.
The initiative was so curious that it aroused the interest of various sectors of the educational institution, who went to the room and recorded the result of the game. "Several students also took shirts. Everyone got into the spirit and wanted to surprise the teacher. The crowd died laughing. the staff", reported Maria Rafaela.
Due to the repercussion of the posts, the university professor's social networks pumped up. "I never imagined that this could happen. I left college and tags started popping up on my social networks, friends sending messages. Everyone knows that I am a Vasco fanatic and they soon recognized it", concluded Viola.