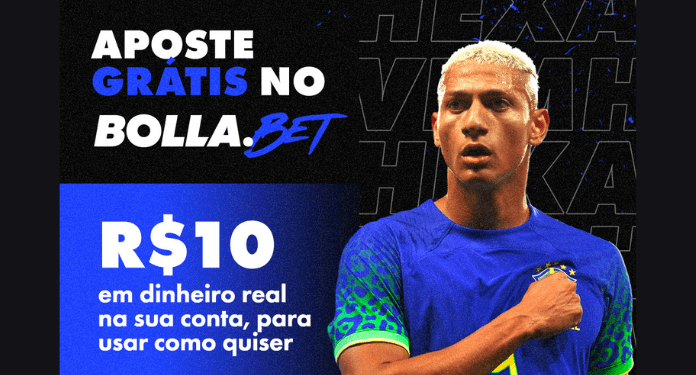 With the optimism of the Brazilian public in relation to the performance of the Brazilian National Team, Bolla Bet launched the campaign "Vem Hexa!" in which the US company offers BRL 10 for bets without the need for an initial deposit.
To win the 10 reais and start betting, just create a user account on the Bolla Bet website, activate your preferred Wallet (wallet) and enter the promo code VEMHEXA, which will also be shared on Bolla Bet's social networks. The amount will be credited automatically.
In addition to the promotion aimed at attracting the attention of the Brazilian public, Bolla Bet launched a concept video to present its brand on SporTV, a cable TV sports channel belonging to Grupo Globo.
In this video, Bolla Bet shows itself in accordance with the precepts that brought the brand to Brazil and it is possible to notice the elements of hype culture and the search for connection with Generation Z & Millenials.
The launch of the bookmaker in Brazil
The brand and the very latest in sports betting officially arrived in Brazil this month. The launch of his brand and his project were celebrated at an event held at LabOf, a space dedicated to hype culture located in Vila Mariana, a neighborhood in the center-south region of São Paulo.
The event featured a presentation by digital influencer Micael Melo, whose TikTok profile has more than 3.1 million followers, 840,000 subscribers on Youtube and 340,000 followers on Instagram. All of Micael's social networks, including, connect directly with the target audience initially defined by the bookmakers: Generation Z and Millennials.
About Bolla Bet
A company based in the United States, Bolla Bet arrived in Brazil to revolutionize the world of sports betting. On its platform, the brand offers Snap Bet™ and Bespoke Engine™ functionalities. While Snap Bet™ provides a differentiated UX with bets that can be placed with just one touch, the Bespoke Engine™ is a tool that provides the Bolla Bet platform with a better adaptation to user preferences through analyzes based on personalized interests. .