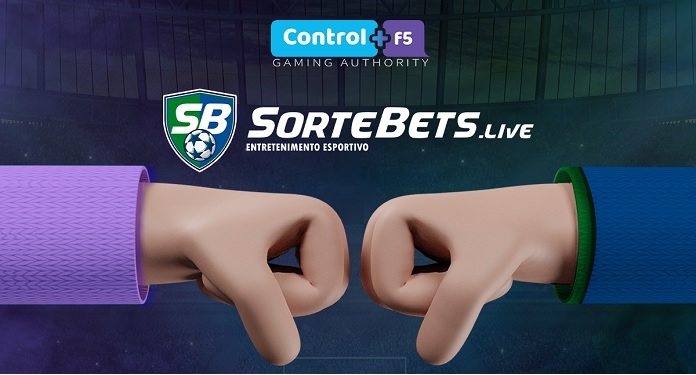 Sortebets, sports betting site, is Control+F5 Gaming's new client. The platform has a bold expansion plan and, according to the company's CEO, it wants to be among the big ones in the online segment in Brazil soon.
Sortebets has a generous sportsbook with sports such as football, basketball, American football, volleyball, tennis, MMA and others. The house offers differentials to the public such as withdrawal and truly fast deposits, via PIX, generous welcome bonus and great customer support.
The company is preparing many novelties for the Brazilian market, as a result of a strategic marketing plan that has been developed together with Control+F5 Gaming. Control+F5 Gaming crafts distinctive strategies for gaming operators looking to thrive in the Brazilian market
The main objective of the partnership between Sortebets and Control+F5 Gaming is to make the betting platform a reference in the country's market. The site's team believes that working together will bring excellent results for Sortebets.
Control+F5 Gaming is a pioneer in the Brazilian market by offering a hub of services for gaming operators who wish to operate in the Brazilian gaming sector, safely and successfully. The solutions are complete, ranging from planning to the development of all the necessary operations, for national and international gaming companies.
Control+F5 Gaming's services cover areas such as Training of Professionals specialized in games, 360º Marketing, Customer Service, KYC Compliance, Software Development, Market Consulting, Human Resources, Legal Advice, Administration and Accounting.
Control+F5 Gaming participated in SiGMA Europe
This week, Control+F5 Gaming was present at SiGMA Europe 2022, an event that was covered daily by the iGaming Brazil portal.
The managing partner of Control+F5, Natalia Nogues, spoke about the importance of the company's participation in the convention: "The eyes of companies in the gaming sector from all over the world have turned to Brazil. Even before the complete regulation, we already have a very busy market in the industry and, certainly, the potential to grow much more".
"We are at one of the most important events in the world, with the objective of showing our work and so that operators from all over the world know that they can count on complete assistance if they want to operate safely in Brazil. The Brazilian public is passionate about sports, betting and games and already knows that these are very interesting and increasingly popular entertainment options", he added.