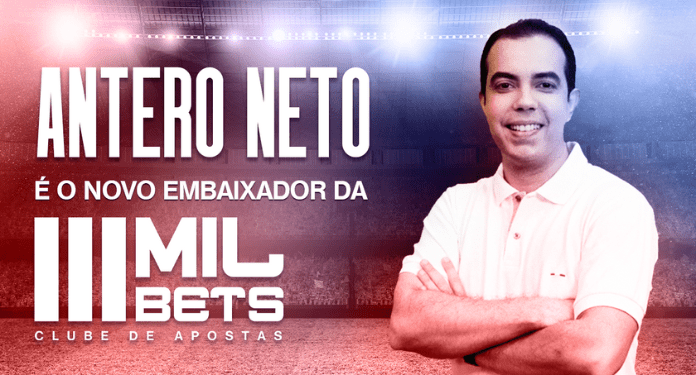 In an official announcement, the bookmaker Milbets named the communicator and narrator, Antero Neto, as the newest brand ambassador. The gaming and betting house's marketing action aims to expand its presence in the market, attracting new audiences to its sports entertainment platform.
Antero Neto is a recognized name in the media, having joined the Globo group as an intern and becoming today one of the greatest sports communicators in Ceará. The popularity and charisma of the professional are exactly the characteristics that Milbets was looking for to act as a representative of the brand.
Milbets has expanded its operations throughout the national market.
Milbets is focused on accelerated growth for the next 4 or 5 years, seeking and implementing the latest industry innovations for its customers.
The platform has a range of products and services for all its customers, offering sports betting in sports such as: football, basketball, tennis, volleyball, baseball, American football, MMA, boxing, casino and many others. In addition, the site has games from the best providers on the market, as well as an affiliate program that pays good brand promoters with attractive commissions.
The presence of Antero Neto will certainly bring an even more striking identity to Milbets, which will be extremely important for the aggressive plan of growth and expansion of the brand throughout Brazil.
The bookmaker's recent partnership with Control+F5
Recently Control+F5 Gaming announced another partnership. This is Milbets, a sports betting platform focused on market development and expansion.
The company's CEO said: "Milbets' prospects for the Brazilian market are the best possible. We know that the potential of the gaming and betting segment in Brazil is enormous. Although betting can still be considered a novelty in the country, many people are already familiar with playing on the sites. The trend is that more and more people start having fun betting.
"Milbets intends to grow at an accelerated rate for the next 4 or 5 years, seeking and implementing the latest industry innovations for our customers", added the CEO.