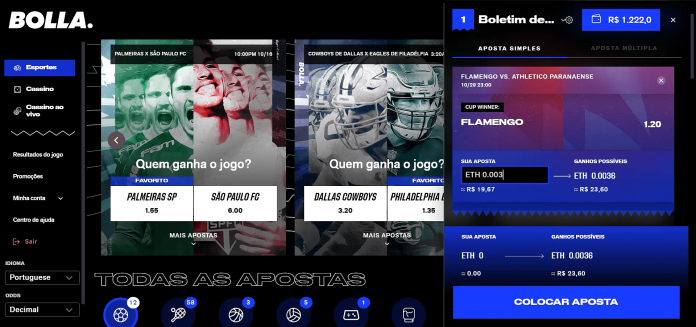 With a completely new approach compared to companies that offer sports betting to the public, Bolla comes to Brazil ready to revolutionize the betting experience.
One of the main differentiators of the Bolla experience is its similarity to popular dating and music apps by offering fluid navigation and an advanced technology approach.
Bolla's interface is completely different from today's iGaming platforms. Another differential of Bolla is in relation to its Snap Bet™ and Bespoke Engine™ features, where both will learn the behavior of users who use the platform and adapt what they will see according to their interests to propose interactions in the future.
"We saw an opportunity to modernize iGaming with a user experience focused on the expectations and tastes of Gen Z and Millennials. Bolla arrives with a mission to make this experience relevant to the growing interest of today's audience and not be the betting house of our parents' generation", says Chris Snyder, official spokesperson for Bolla.
Founded by a group of highly experienced professionals in the North American technology industry, with solid careers built in consumer and entertainment companies, such as PepsiCo, Ubisoft, 2K and Samba TV, Bolla's originality is already consolidated in its first steps in the market. Brazilian sports betting. "Our inspiration for the Bolla platform is rooted in the latest trends in lifestyle, sports and technology. Our goal is to create a platform that is at the intersection of much more than just betting. And that's just the beginning," says Chris Snyder.
This completely different behavior can be noticed in the details. One of them is the digital marketing strategy targeted at TikTok.
The Bolla maintains the initial focus of talking directly with Generation Z and Millenials and, therefore, TikTok becomes the ideal platform.
"Our quest and passion is to understand the preferences and habits of the Brazilian gambler better than anyone else, but as our platform is designed for a specific audience, it is vital that we align our marketing and social media approaches accordingly. For that reason, we will be very attentive to TikTok, while, of course, also paying attention to Instagram and Twitter," says Chris Snyder.
The identification of this focus can be noticed at the brand launch event, where guests will be received at Labof, a space focused on hype culture in Vila Mariana, in the heart of São Paulo. The event will promote art actions such as live graffiti, as well as music and drinks, ensuring that a direct connection is created with the brand's target: GenZ & lifestyle.