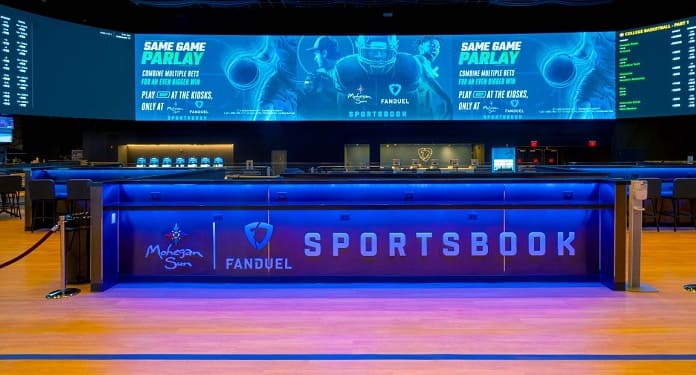 Guests who visit the Mohegan Sun FanDuel Sportsbook and place a combo bet on the same game of $50 at 400+ odds or more will receive the prize of the week – plus a ticket to the grand prize draw.
Prizes include sets of five-piece mugs, coolers with speakers, lawn chairs, and customers who wager weekly can win the entire tailgating set.
Same Game Combined Betting (SGP) is required to enter the Tailgate and Tickets Giveaway represents a type of bet that allows bettors to pool multiple bets from the same event.
Mohegan Sun FanDuel Sportsbook customers visiting the venue can also enjoy a variety of dining options at the best game day fare. Brotherly Love Philly Cheesesteak, Kickoff Chicken Wings and Empty Net Nachos are among the most popular restaurants.
Guests who enjoy alcoholic beverages can try a new margarita product called the Blue Powerage Margarita, and they can also opt for other products every Monday through Thursday during football season.
To be able to place a bet on the Mohegan Sun FanDuel Sportsbook, guests must be over 21 years old. Of course, combo bets on the same game are much more profitable for sportsbooks.
While they can add enormous value to the experience in terms of fun, sports bettors will obviously have much lower odds of winning.
About the Mohegan Sun FanDuel Sportsbook
A world at play and a world of its own, Mohegan Sun, created in 1996 by the Mohegan tribe of Connecticut in partnership with Mohegan, is one of the world's most incredible destinations with hotel accommodations, retail outlets, live entertainment and sporting events.
With two exclusive casinos, Mohegan Sun is also home to family entertainment facilities, two luxurious spas, world-class meeting facilities, a state-of-the-art poker room, as well as three large entertainment venues with hundreds of seats.