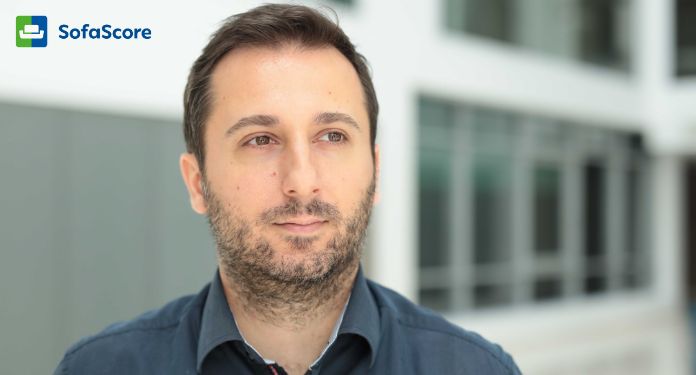 The sports data and analytics industry has grown enormously in the 21st century and with it come real-time sports statistics and data companies to attract fans.
SofaScore provides sports fans around the world with objective insights, bringing new ways to present and consume data. Based in Zagreb (Croatia) with offices also in Rio de Janeiro, it was founded by latko Hrkać and Ivan Bešlić, who started in 2010 by buying their first data feed.
7 years ago as Sales Manager for SofaScore, the experienced Croatian marketing professional Daniel Jurilj spoke with the iGaming Brazil portal and talked about the success of the app that started in 2012 and quickly turned into an analytical tool for fans of football. He spoke of providers and ways to avoid data manipulation, among other subjects.
Check the interview in full
iGaming Brazil – How did you manage to reach 22 million users?
Daniel Jurilj – It's been a long road for SofaScore. In 2010, our co-founders Zlatko Hrkać and Ivan Bešlić purchased the first live scores feed for a small forum subpage, and it was evident from the start that there is a huge demand for sports content.
This was a time when technology was transitioning to mobile smartphones and the company was quick to recognize the importance of having a mobile app. New technologies combined with our passion for turning numbers into insights have resulted in more and more fans flocking to the app.
The main milestone came in 2015, when we introduced SofaScore statistical rankings, which have now become a benchmark for judging player performance. These innovations, along with the sheer breadth and depth of our coverage, are the key factors that have helped us become the top-rated sports app on the market – rated 4.8 on Google Play and 4.9 on the App Store.
iGaming Brazil – And how does Sofascore differ from other apps?
Daniel Jurilj – Bringing the user closer to the action is a challenge that requires constant innovation – to keep it interesting. SofaScore unique features such as SofaScore ratings, attacking moment, player heat maps etc. were born out of analyzing the competition and recognizing areas for improvement.
SofaScore diversification over competitors comes from SofaScore unique features and attention to detail, where detailed statistics on specific players and forms are integrated, to create added value for users who are interested in more than just the result. of the game, for example the performance of your favorite team or player.
iGaming Brazil – How does Sofascore calculate its ratings?
Daniel Jurilj – SofaScore ratings are calculated by a complex algorithm, which has been carefully constructed and refined to perfection by SofaScore's in-house team of analysts and data developers.
What an average football fan sees during a TV broadcast in terms of statistics is just a fraction of the data collected during a match. There are around 1,500 different events on each device that we translate into numbers using a complex algorithm.
iGaming Brazil – How is the analysis work done with clubs? How do you calculate the number of possessions, right and wrong passes, crosses made and even heat maps of the players on the field?
Daniel Jurilj – SofaScore works with dozens of data providers specializing in data collection. In the end, it all comes down to human operators recording data manually, to gather information about things like possession, passes, duels, tackles, runs, interceptions, kicks, and others.
iGaming Brazil – What do you do to avoid data manipulation?
Daniel Jurilj – The data providers we work with such as Sportradar and Opta are world leaders in their fields and are constantly improving data integrity monitoring. We work closely with them and listen to user feedback to update any coverage we can.
iGaming Brazil – How do you see the regulated and unregulated Brazilian market (in betting)? Will there be any difference after regulation?
Daniel Jurilj – Regulation is important, especially in terms of user protection. However, regulation itself doesn't mean much if the government isn't doing anything to sanction unregulated operators who will continue to target Brazilian players.
Right now, many brands are fighting for their market share and they are doing a lot in terms of branding, which is the right way to go. Entering a regulated market later on, where you have some strong brands, will be a daunting task. I expect the betting market to continue to grow, but with some brands emerging as powerhouses. As the market develops and players start demanding more options, their offerings expand.
iGaming Brazil – How is SofaScore getting ready for the World Cup?
Daniel Jurilj – The upcoming World Cup in Qatar is a big event for us at SofaScore, as well as all football fans around the world. We are adapting many small features that will further engage users and share their passion for their national teams or the World Cup in general.
For our betting partners we have prepared an exclusive Sofa Pick'em game which is implemented on our SofaScore platform. This game will give users the ability to get involved with the event – predicting the progression of their favorite team through the stages of the tournament.
This new feature will give our partners and users a unique opportunity to engage and promote their offerings to SofaScore users in innovative ways in order to maximize your brand exposure and engagement throughout the event.