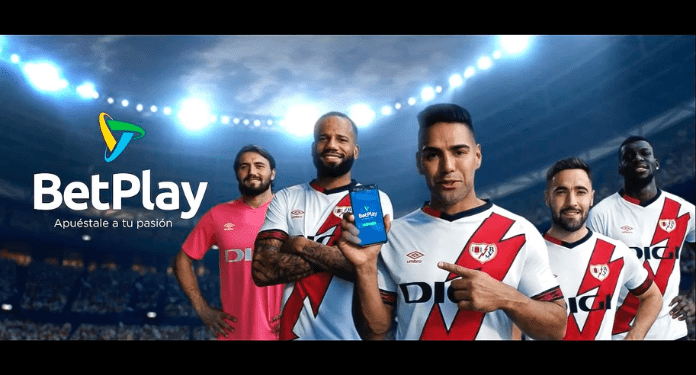 BetPlay, the sports betting and online casino of Colombian operator 'Corredor Empresarial', has announced that football player Radamel Falcao García has become the new brand ambassador. Furthermore, the bookmaker is said to have contributed $16.4 million in royalty fees so far in 2022.
In a statement, BetPlay announced that it has also added Spanish club Rayo Vallecano, where Falcao Garcia currently plays, as part of its new corporate image: "Both the team and the Colombian star will be the new face of various betting brand campaigns." .
The company also provided an overview of its financial report, where it detailed that between January and July of this year it brought "73 billion pesos in operating rights" to the country, about $16.4 million. They also indicated that sales, on average, "achieved a 200% increase from 2020 to 2021".
"During 2021, we invested more than 5 billion pesos in technological development and platform strengthening. This is how we generate trust and the necessary structure to have more than 65 sports around the world, with the most competitive odds and prizes," he added. he.
In this regard, the general manager of Corredor Empresarial, Germán Segura, said: "we are proud to report the current figures of BetPlay, a 100% national company, which has grown by prioritizing the offer and safety of customers".
The report also notes that during 2020 and 2021, the brand increased its number of registrations by more than 107%. "In addition to this commercial growth, BetPlay reinforced its commitment to sports. Betting on Colombian sports is contributing to the country's dynamism," added Segura.
"Our support to the Colombian Football Federation, to DIMAYOR, through which we sponsor all the competitions they organize in Colombia, and to Colombian football teams, reflects the confidence of this company in the country. immense potential, reinforcing indoor soccer, basketball and baseball competitions", added the executive.
BetPlay's new social responsibility campaign
In addition, the company mentioned that it "launched a new institutional campaign of social responsibility to give financial support to projects that seek the sporting and educational development of children and young people with limited resources".
The campaign is entitled "We are passionate about your dreams" and, in this regard, Segura highlighted that it seeks "to train the talent of many young people so that they can stand out in a short time in national competitions and be able to play in the most demanding clubs in the country".
BetPlay added that "the campaign has already started with an agreement with the sports training school Mentisport FC" and that the company, together with the Colombian government through the Ministry of Sports, "is developing a policy to support sports training schools linked to foundations, aiming to encourage national sports talent and, thus, provide the necessary tools for children and adolescents to develop their skills and abilities to be more competitive".