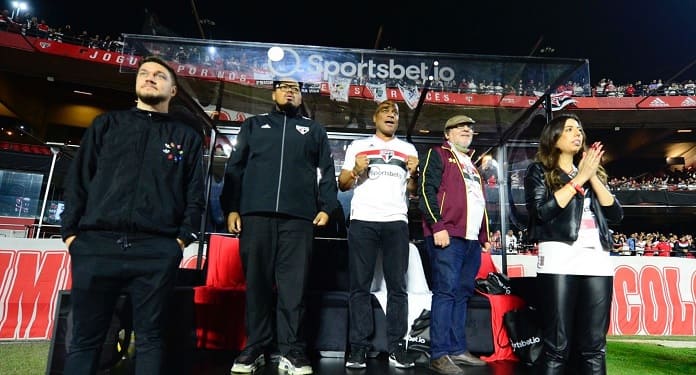 Partner of São Paulo and the Copa do Brasil, Sportsbet.io, a company in the sports betting sector, carried out a special action on the lawn of the Morumbi stadium, in São Paulo. The activation took place last Wednesday, 24, during a game against Flamengo.
The 'Pulpite Premiado' allowed four fans to follow the match on a sofa placed near the goal, on the stadium lawn. The action was created by Fakto, the activation arm of the Klefer group.
Sportsbet.io chose four São Paulo fans who bet on the team's victory on the betting site. However, Flamengo ended up winning the first leg of the Copa do Brasil semifinal, 3-1.
"One of the essences of Sportsbet.io in Brazil is to seek the differential. Those who already follow the brand's actions can easily see how we deviate from the pattern in a very spontaneous and true way, and this is always well-received, since it is authentic and converses easily with the public", said Justin Le Brocque, head of Sportsbet.io marketing.
According to the website Máquina do Esporte, fans believed they watched the game from a box in Morumbi. But they were led onto the lawn, making the experience even more memorable.
"This action, in partnership with the Copa do Brasil, not only came at an opportune moment, but also shows, once again, the special and different way we use the resources we have with our partners and with our public".
Influencer Octavio Neto and former player Ronaldão participated in the activation of Sportsbet.io
The fans were joined by influencer Octavio Neto and former player Ronaldão, who played for Tricolor Paulista. "We always seek to carry out unconventional actions, created together with our customers. When this happens, it is a great satisfaction", said Ricardo Bonetti, head of activations at Fakto.
"It makes all the difference when the sponsor seeks to explore the contracted asset, highlighting something important within the brand's communication. With that in mind, we created, together, a unique experience for Sportsbet.io customers, within the competition, at a special moment. Undoubtedly, an action like this is something that we want to do more and more together with our partners", concluded Bonetti.