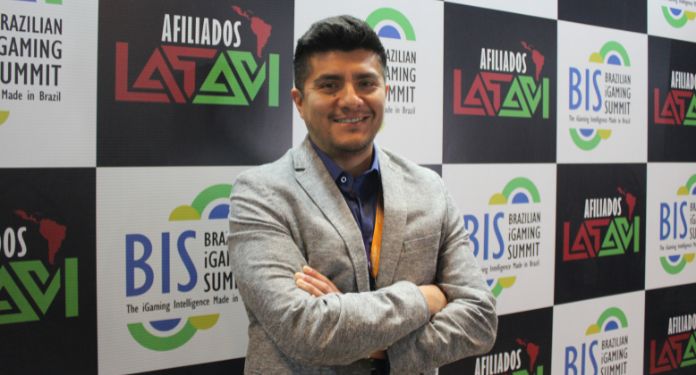 Gambeta10, the latest online casino and sports betting brand from Condor Gaming Group, which debuted in Brazil during the Brazilian iGaming Summit 2022, is now operating in Brazil.
The company is entering 100% customer-focused. Using enough technology to modify and customize the product, that being the center of their concerns.
Gambeta10 also carries out promotions, actions and all types of communication focused on the users.
On this occasion, the iGaming Brazil portal spoke with its Regional Manager, the Uruguayan Luis Jiménez, who is committed and enthusiastic about his new task.
See the full interview
iGaming Brazil – Condor Gaming Group launched its new brand in Brazil, GAMBETA10, during BIS 2022 last June. How was the impact of this release?
Luis Jiménez – We were lucky to have a great reception, both from the suppliers and from some of the first players who are already entering the Gambeta universe. The Gambeta universe speaks directly to the "ginga" of the Latin American, so we were lucky to be quickly accepted by the public.
iGaming Brazil – What assessment do you make of the company's first event?
Luis Jiménez – 100% positive, we had the chance to put Gambeta10 on the table and see the reaction of different audiences and suppliers up close. We have received rich feedback that allows us to further improve and optimize our new product, as we want to offer a fully Latin American experience. On the other hand, we were able to close several agreements with suppliers and affiliates who have since become part of the team.
iGaming Brazil – According to its own words, Gambeta10 offers a product adapted to Brazil, awaiting the imminent regulation in the country. What do you bring to the Brazilian public?
Luis Jiménez – We don't want to offer a product adapted to the Brazilian market, we want to CREATE a product FOR Brazilians. Not only for the payment methods, service or betting offer, but a place where Brazilians can really "feel at ease" having the preferred types of bets, the most sought after markets, attractive promotions and finally a place they want to return to. .
iGaming Brazil – And if the regulation doesn't happen at the end of the year? As follows?
Luis Jiménez – We highly respect the regulations of each country where we operate, we closely follow the legislation regarding the operating license, which, in any case, we will subscribe to in order to comply with all market requirements. We understand regulation as something positive for the entire sector, both for operators, players and even as a source of employment for Brazilian professionals.
iGaming Brazil – Why did you choose this name?
Luis Jiménez – Gambeta or Pedalada is a well-known and popular resource in Latin America. It's a moment of creativity in a difficult time, a genius that solves an impossible situation to turn it into a goal. As a Latin American, I think that this playfulness, this balance, is what unites us transversally, knowing how to overcome diversity with joy, energy and talent. Gambeta10 is that, it's pure adrenaline, it's genius, it's putting on the number 10 shirt and entering the field to give it your all!
iGaming Brazil – What is the origin of the company? It was born in Latin America?
Luis Jiménez – Gambeta10.com belongs to Condor Gaming. Condor is a Malta-based company with extensive experience in the gaming industry, both online and offline. Our challenge is to move to the online environment with a concept that encompasses all aspects of a modern, high-tech and easy-to-use online casino.
The Condor team includes many varied personalities, all of whom are enthusiastic about the process. We have the main office in Malta and a large control center to provide an amazing gaming experience for our players. Our team members are motivated to think outside the box, be creative and implement even the craziest ideas; everyone with one goal… Not to be the biggest in online games, but to be the best.
iGaming Brazil – What are the marketing strategies to attract the Brazilian player?
Luis Jiménez – We know that the Brazilian is an experienced player, knows bonuses, looks for odds and has experience in the game. We also know that they are heavily showered with offers of all kinds every day.
Therefore, in addition to offering highly competitive bonuses with real possibilities for winnings and withdrawals, we focus a large part of our strategy on 1-to-1 offers, via CRM. We are sure that it is the best way to offer our players a truly personalized experience, with relevant offers tailored to different types of players; beginners, experts, those who play for fun and much more.
iGaming Brazil – What expectations do you have for the Brazilian market?
Luis Jiménez – We have great expectations even though we know that the road is long and not always as fast as we would like, but we have all the tools and the will to create a product that really generates engagement with Brazilians and that in a few months players can consider them to be your favorites. In the end, what we want is for Brazilians to make their best move!