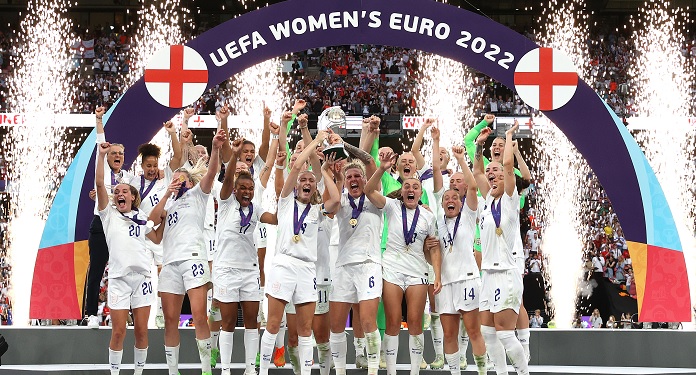 When England's women's football team brought home a victory last Sunday, the English bettors were confident of the title, according to data from Flutter Entertainment.
Across the top three brands in the group, over 840,000 bets were placed on the Women's Euro Cup final, with Sky Betting & Gaming reporting a 76% preference for the home team.
Of these bets, Sky recorded 78,000 bets placed during the game. Meanwhile, total stakes for the final amounted to over £4.7m, with Sky Bet's in-play stakes topping £1.1m.
Additionally, 142 customers who placed a live bet were lucky, betting that Chloe Kelly would score in overtime. However, over 10,000 punters were not so lucky, placing their hopes on a penalty shootout.
Meanwhile, England's Alessia Russo was the most supported player to score in the match, in both regular and extra time, on Sky, Paddy Power and Betfair – likely leaving many punters disappointed.
Combined, Flutter's top three brands recorded 30,000 bets placed on the England conquest, resulting in a payout of £580,000 in the win market alone.
Paddy Power and Betfair also paid £25,000 for Beth Mead to be top scorer, and more than £12,000 for the "England/Chaser" double. Also, on Paddy Power, the second most popular option "Bet Builder" won on 1/22. This possibility has been supported over 2,000 times by customers, resulting in a payout of over £185,000.
Flutter recorded the most bets ever placed on a women's sporting event
These statistics align with a larger trend. Ahead of the Women's Euro Cup final, Flutter published data on betting activity throughout the competition, indicating "the highest number of bets ever placed on a women's sporting event".
Women's Euro Cup 2021/2022 Final
If Flutter recorded a record in betting, the Euro Cup decision also went down in public history. In all, when 87,192 fans were at Wembley Stadium to watch the final between England and Germany, reaching the largest audience in Euro history, considering the men's and women's disputes.
Ella Toone and Chloe Kelly scored England's goals in the unprecedented achievement for the country. It is the greatest feat in English football since winning the men's World Cup in 1966.