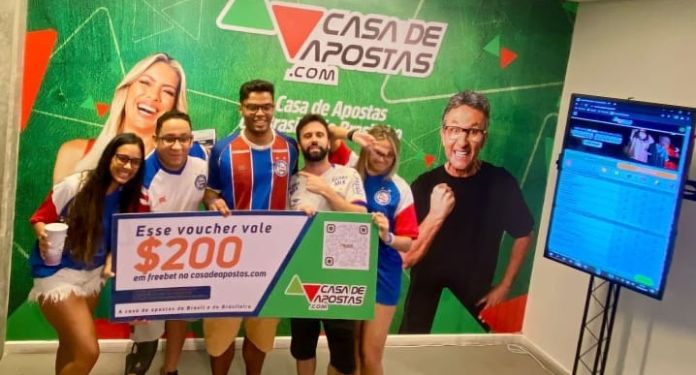 Casa de Apostas, the master sponsor of Esporte Clube Bahia, promoted a special action that made five fans the most privileged among the more than 23 thousand who attended the Fonte Nova Arena last Tuesday (19). The activation, which took place before the duel against CRB, for the Campeonato Brasileiro Série B, featured a challenge on the Tricolor de Aço and took place in the streets and the relaxed atmosphere that takes over the surroundings of the stadium moments before the games.
Under the command of presenter Alvinho Gazineo, the team from the sports betting site walked through bars, skewers and cafeterias looking for the ideal group of fans for the initiative. The chosen ones, as it could not be otherwise, made a pre-game worthy of the Bahian people: with a lot of review, animation and, of course, many stories about Bahia.
For the five chosen, the mission was simple: each one just had to draw one question and answer it without hesitation. The prizes? Nothing less than watching the game in the Casa de Apostas box at Fonte Nova with free food and drinks, Bahia shirts for all participants, in addition to a "freebet" worth R$ 200.00 to bet on the Squadron.
"When it comes to their passion, Bahia fans never disappoint! In this action, we bring together the participants' love for the club and their stories, with the contagious atmosphere that exists in the streets before a Tricolor de Aço game. it will always be gratifying to be side by side with this crowd and provide experiences like this", Hans Schleier, marketing director at Casa de Apostas.
About Casa de Apostas
The Betting House (CDA), leader in sports betting, offers a wide range of sports, markets, live betting and prematch.
CDA is a reference for the Brasileirão, Champions League, Libertadores, UFC, Tennis (ATP, ITF, Roland-Garros, Wimbledon, US Open, etc) Formula 1 and much more.