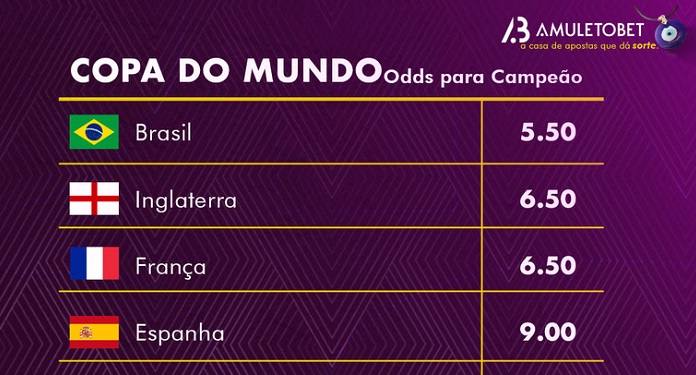 Brazil is the favorite for the 2022 World Cup title in AmuletoBet quotes. In the bookmaker that brings luck to the player, the victory of the team led by Tite will pay 5.5 for each real placed in the Brazilian team.
England (6.5) and France (6.5), however, are very close to the canary team in terms of quotations. The list of favorite teams still has Spain (9.0), Argentina (10.0), Germany (12.0), Portugal (13.0), Netherlands (13.0) and Belgium (13.0).
After the draw of the World Cup groups, AmuletoBet provides several possibilities for the football fan interested in the World Cup. You can bet on the leader of each group, on the top scorer of the championship and on the stage in which the main teams will be eliminated.
In addition, the odds for the first games of the Cup are now available. The victory of Brazil over Serbia, for example, pays 1.49 for each real bet on the team in the Selection. Remembering that the selection fell in Group G.
The premiere is scheduled for November 24, at Nacional de Lusail, against Serbia, at 16:00 (Brasilia time). The Brazilians face the Swiss, on November 28, in Doha. The selection ends its participation in the group stage against Cameroon, on December 2nd.
AmuletoBet maintains the objective of consolidating itself as the favorite bookmaker in the country, and the World Cup, a tournament that will focus the world's attention in the months of November and December of this year, is an excellent opportunity for Brazilians to learn more about respect for bookmakers and leave informality aside – such as betting with groups of friends to join the reliable and safe environment of AmuletoBet for betting.
About Bet Amulet
The AmuletoBet brand belongs to Sweetspot N.V., a company registered under the laws of Curaçao under number 134318 (0) with address at Fransche Bloemweg 4, Willemstad, Curaçao.