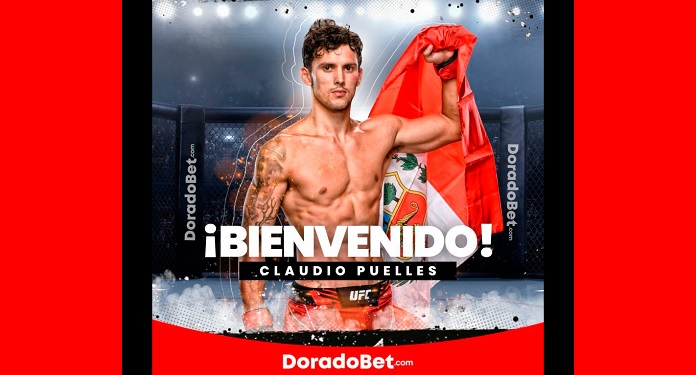 DoradoBet has signed an endorsement deal with Claudio Puelles, the only Peruvian fighter in the Ultimate Fighting Championship (UFC).
The bookmaker joins Puelles' team and joins efforts in their preparation for the fight they will have against the legend, Clay Guida, in the Lightweight category, on April 23, at UFC Fight Night.
After debuting in the UFC in 2016, the Peruvian fighter managed to draw attention to his performance. In 2021, he completed two dominant wins in the Lightweight division, one of the hottest divisions. He is currently undefeated with four straight wins.
This alliance represents a milestone for DoradoBet, as it is the brand's first commitment to a high-performance Peruvian athlete. "We know what it takes to be a UFC athlete and stay at such a competitive level. Therefore, with this union, we seek to support Claudio Puelles in the face of the most important challenge of his career so that he can go as far as possible in the main MMA league in the world", states the company's official statement.
This action is part of DoradoBet's commitment to the development of Peruvian sport, which is also manifested through the sponsorship agreements we have with 9 professional football clubs in the country.
About DoradoBet
DoradoBet is the international brand of the company INTERPLAY WORD SAC, dedicated to the marketing of sports betting, online casino and games with cutting-edge technology. Thanks to its wide range of entertainment and promotions, the operator has positioned itself as one of the leading brands in the online gaming industry since entering the Peruvian market in 2017.
In addition, during 2021, it recorded the highest growth in the sector as the betting platform with the most visits. Today, the platform covers over 50 sports around the world, as well as thousands of live casino and slot machine options. Founded in 2017, the group is headquartered in Miraflores, Lima.