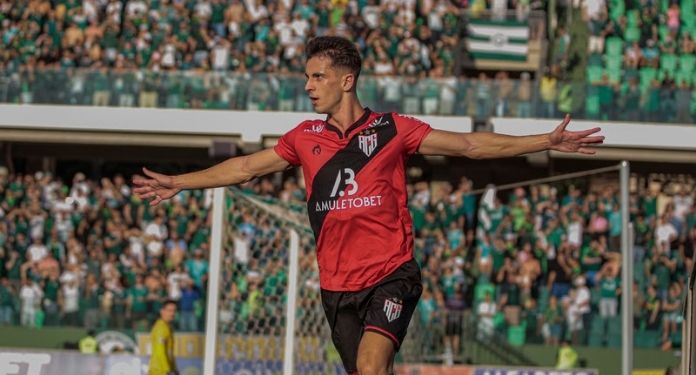 With the 3-1 victory over Goiás last Saturday, Atlético-GO won its 16th state title, surpassing Vila Nova as the second club with the most state achievements in the state of Goiás. AmuletoBet, the club's master sponsor, celebrates the great
Thomas Carvalhaes, Regional Director Brazil & LATAM at Amuleto Bet, says: "We, at AmuletoBet, are very happy for the achievement of Atlético Goianiense. Being state champion is an affirmation of strength. We want to congratulate everyone involved in this achievement".
The path to this achievement was marked by 16 games between the group stage and the playoffs. In total, the campaign ended with 10 wins, 3 draws and 3 losses, with 24 goals scored and 13 conceded.
This is Atlético-GO's third state title in the last four years. The achievement, in the view of Thomas, Director of AmuletoBet, is an evident sign of the serious work of the club's management.
"This retrospect confirms that our choice was correct! It is a club that takes football seriously at all levels of departments. Atlético-GO has been a reference in Goiás for a long time. It is a team that has been standing out in the scenario national team and the only representative from Goiás in an international competition".
"We are proud to see our partnership and our efforts being rewarded by seeing the AmuletoBet brand shining with the club on this winning path," said Thomas.
The Executive President of Atlético Clube Goianiense, Adson Batista, celebrated the partnership, but, above all, did not fail to value the performance of his team in the final.
"It's a historic moment for Atlético. Winning the championship at the home of the biggest rival playing great football makes us very proud. The club is serious and has a very clear work methodology. That's why we want great companies on our side."
"This is the case of AmuletoBet. They arrived at a very important moment and we hope that the partnership will continue for a long time", stated Batista.
With this conquest of the state title, Atlético-GO is now preparing to compete in the Copa Sudamericana and Serie A of the Brazilian Championship. For the international competition, the team debuts this Tuesday against LDU (EQU). In the Brasileirão, the first match will be on Saturday against Flamengo at Antônio Accioly Stadium.