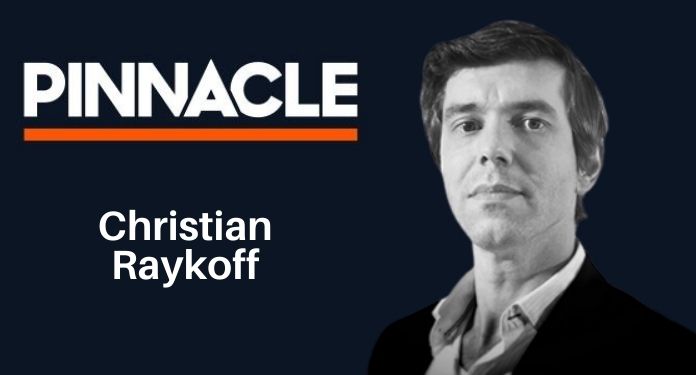 The online gaming and sports betting industry has been growing rapidly in Latin America in recent years. Therefore, brands with global reach are turning their attention to this region with the intention of taking advantage of new business opportunities, consolidating their respective names and creating bonds with an audience passionate about sports and increasingly involved with eSports.
Therefore, Pinnacle has a strategic plan to expand its operations in the LATAM market. According to Christian Raykoff, Regional Manager LATAM at Pinnacle, the strong dedication to the competitive eSports sector is already one of the commitments made by the group.
In an exclusive interview, Christian told how he entered the betting industry, the brand's plans for Brazil and how regulation can influence Pinnacle's work in the national market.
Entrevista exclusiva com Christian Raykoff, Gerente Regional LATAM da Pinnacle
iGaming Brazil: How long have you been working in the betting industry?
Christian Raykoff: I've been in the industry for over 10 years, with a background in advertising I started working in content teams for local brands and from there I became an affiliate to create my own agency.
I've worked for several sites across the region helping to build brand awareness for all of them and creating quality content for the community. I recently started working closely with bigger brands and became an iGaming consultant to satisfy customer needs. And, I joined Pinnacle a few years ago and came to this role for the LATAM region.
iGaming Brazil: What are Pinnacle's plans for Brazil and Latin America?
Christian Raykoff: While the industry has changed around Pinnacle, the sports betting service has stuck to what made it successful in the first place, offering the best value to customers as part of an unparalleled betting experience. We evolved in Brazil and Latin America to become a bookmaker for a wider audience, staying true to our DNA.
Working with the likes of BT0 and Kingteka in eSports, and partnering with various teams and affiliates in other sports with the likes of Danilo Pereira and Marcelo Bechler, allows us to communicate on a deeper level with local bettors, establishing trust and a mutually beneficial relationship. We want to continue this strategy, as we have a model with a proven ROI that generates trust and credibility in the sector.
iGaming Brazil: What are the main difficulties you believe you find in the Brazilian market?
Christian Raykoff: It's fair to say that the region has at times been skeptical of gambling due to the general stigma attached to the industry. But in fact, as awareness develops around better products serving Pinnacle 'fans' or customers, and with building trust as operators with more payment solutions, working with influential figures in the space and making it If active investors and advocates of industry progression and accountability, that sentiment is starting to fade.
It's still a very young market, but we're in transitional growth, so we feel our responsibility is to educate at every possible opportunity so that our clients make the most informed decisions possible.
iGaming Brazil: Regarding regulation in Brazil: what are the differences in the work that Pinnacle will do when the market in Brazil is regulated (investment, marketing, etc.)?
Christian Raykoff: If there is, there will be more opportunities to raise awareness through media channels. We will always continue to promote good quality educational content and we can only imagine how many people see our great work on Betting Resources and through our partners quickly rising to new heights.
However, marketing and sponsorship boosts are nothing without a strong fundamental product and user experience. That's why there are plans for regional Pinnacle Cup events to feature the best teams in Brazil, with localized language streaming, rotations and a bespoke betting experience on offer.
iGaming Brazil: Pinnacle invests a lot in eSports. Tell us what this segment represents for you?
Christian Raykoff: It took a while for eSports to become universally valued in the betting industry, but with over a decade of product development and commercial proof convincing skeptics, we are now at a point where we can focus on the next stage of development. of betting.
The global phenomenon has local roots and the specific needs of its native digital community, and we at Pinnacle are investing in these markets to ensure these esports punters and fans are served with the best betting experiences available.
Our commitment as sponsors of BTS Pro Series Season 7: Americas helped build that trust with these fans. With eight of the best teams in Dota 2, including Team Undying and SG esports, we are not only building that bridge for potential punters, but also investing in the future of the industry.
We've taken it a step further with the Pinnacle Cup series. Launched in early 2021 with a CS:GO event bringing together 32 tier one and two teams and a prize pool of $100,000. Turning the established sponsorship model around and taking on more ownership gave us the opportunity to host an event built for the core betting of the eSports community. Pinnacle Cup 3 kicked off on March 14th – check it out!
iGaming Brazil: We see many betting companies sponsoring football clubs in Brazil. Does Pinnacle have any projects?
Christian Raykoff: Football is the most watched, played and talked about sport on the planet, so of course football is always considered in planning our year, especially as it is a World Cup year. Working with influencers, localized content and sponsorships are always on the table and discussed, but our main task is always the same, regardless of the sport. Keeping consistent.
Offering the best value to customers as part of an unparalleled betting experience. Pinnacle has evolved to become a bookmaker for a wider audience, keeping that DNA throughout its business operation. More markets, sports betting features and more payment methods are what we are looking for at LATAM for our loyal and new customers.
iGaming Brazil: What's new from Pinnacle for the year 2022?
Christian Raykoff: We have some very interesting plans for betting features. One of our biggest strengths, where we have over 2,000 articles ranging from how to bet on corners in football to learning how to bet on Dota2. It is the largest content archive in the industry and we are excited to release this new user interface in 2022.
We will also have an even greater emphasis on regional eSports events that fall within the framework of the Pinnacle Cup actions. Exclusive to the Latin American eSports community, it is the focus of local teams. This commitment to local eSports events needs to be respected, which is why our personalized social media, sponsorship and influencer strategy has been so important to our growth strategy.