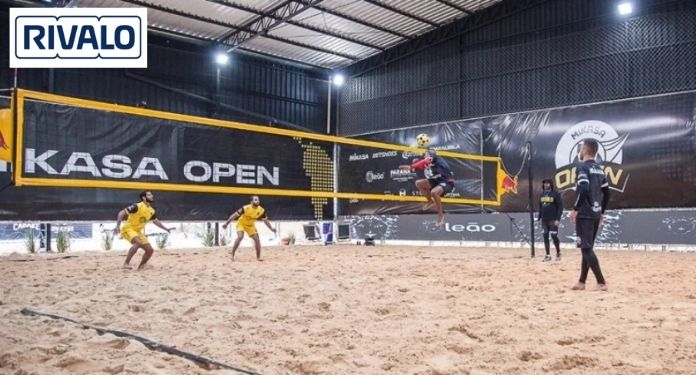 Rivalo continues to believe in the potential of betting on Brazilian sports. After announcing a master sponsorship deal with BFA, the country's top American football league, and agreeing a major partnership deal with ESPN, the brand announced that it will sponsor the footvolley Mikasa Open.
The debut of this partnership will take place in the second stage of the 2022 season, in Curitiba (PR), between the 24th and 27th of this month.
The agreement for the partnership was conducted by 100 Sports, the agency responsible for the commercial plans for the footvolley competition. Last week, the agency also closed a master sponsorship with Amstel Ultra.
The Rivalo logo will be stamped on the athletes' uniforms and in spaces on the court, such as on LED boards. The partnership also ensures that the betting site participates in digital actions with the event, in addition to activations at the places of dispute.
Started in January with a stage in Santos (SP), the Mikasa Open will pass through Curitiba (PR) and will have four more stages throughout the 2022 season.
Guilherme Bucchi, Rivalo's acquisitions manager in Brazil, celebrates the partnership: "Footvolley is one of the fastest growing sports in Brazil in recent years. Therefore, being present in the biggest championship of the sport in Brazil is an important step for Rivalo".
Giba Diniz, organizer of the Mikasa Open, highlights: "We are happy with the results that the Mikasa Open has presented. Footvolley grows every day, and we are pleased to bring big brands closer to the sport, as is the case with Rivalo".
"The first stage, which was held in Santos, was a success, and we are sure that the one in Curitiba will be no different. With the help and partnership of these companies, we will continue to grow and reach higher flights", adds Giba Diniz.