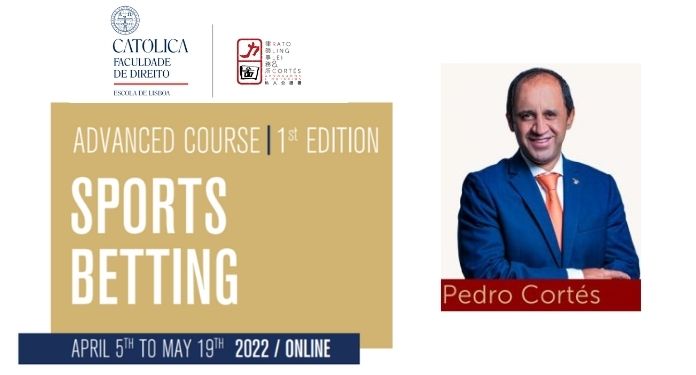 Gambling has been expanding globally and with that in mind, Macau law firm Rato, Ling, Lei & Cortés, in partnership with Católica Faculdade de Direito, is launching a course that focuses on giving participants a advanced in the legal and regulatory aspects of the sports betting industry.
The course will bring together renowned professors and speakers in the world of iGaming, from professors of Gambling Law at the University of Nevada, Las Vegas, current and former regulators and leading executives in the sports betting and related industries.
With the current growth of the sports betting industry, it is necessary that new professionals are qualified to deliver what the market is looking for, and this course will offer the possibility of acquiring quality training and full of opportunities.
The course is aimed at executives, lawyers, judges, consultants and other professionals who are active in the sports betting industry.
See below for more information about the course and how to register:
To apply, you must follow the instructions for filling in and send the following documents:
Digitized certificate of qualifications;
Curriculum Vitae;
1 photo
The condition to participate is that: the candidate must have a degree in Law or any other whose professional experience allows and requires a specialization in these areas.
Fees and payments
The Advanced Course in Sports Betting has a cost of €900, (full payment upon registration). Payment may be made in installments, under the conditions indicated in the registration form.
Members of the Brazilian Bar Association – OAB will have a discount on the fee. More information can be found here.
The course goals
Provide participants with essential information about the sports betting industry, with an emphasis on different structures, laws and regulations.
Participants will understand the interpretation and application of laws and regulations, the jargon and legal concepts of sports betting and its insertion in the global gaming industry.
Participants will develop skills and gain access to tools that will be important for their legal practice in the sports betting industry.
Check the course schedule
April month
Day 5 – 30m – Opening Session: Fernando Oliveira e Sá, guest professor, Católica | Lisbon Faculty of Law Pedro Cortés, Guest Professor, Catholic | Faculty of Law of Lisbon, managing partner, Rato, Ling, Lei & Cortés | Lektou, Macao SAR
Day 5 – 3h – Introduction to Sports Betting: Anthony Cabot, Distinguished Member in Gaming Law, University of Nevada, Las Vegas
Day 7 – 3h – Global Sports Betting Industry: Sérgio Garcia Alves, president of the Gaming Law Commission of the Brazilian Bar Association – DF (OAB/DF)
Day 12 – 3h – Regulatory models. Regulated and unregulated markets. Licensing: Anthony Cabot
Day 14 – 3:00 – Rules and Enforcement: Becky Harris, Distinguished Fellow in Gaming and Leadership, International Gaming Institute, University of Nevada, Las Vegas. Former Chairman of the Nevada Gaming Control Board Paulo Duarte Lopes, director of SRIJ at Turismo de Portugal, I.P.
Day 19 – 3:00 – Sport governing bodies' perspective on sports betting: Alexandre Miguel Mestre, independent member of the UEFA Governance and Compliance Committee
Day 21 – 3am – European Sportsbook: EU, UK: Ekaterina Hartmann, Director of Legal and Regulatory Affairs, European Gaming & Betting Association
26th – 3h – Compliance and Internal Controls. Anti-Money Laundering. Know your customer's cybersecurity: Martin Lycka, SVP of US Regulatory Affairs and Responsible Gaming at Entain Victoria Fernandes, Senior Manager of Regulatory Compliance at Kambi
Day 28 – 3h – Responsible Gaming – medical approach. Different types of prevention (online and terrestrial). Types of gamblers. Advertising restrictions. Regulatory solutions: Pedro Hubert, Player Support Institute
May
Day 3 – 3h – Responsible Gaming – Regulatory approach. Announcement. Self-exclusion: Teacher to be designated
Day 5 – 3am – Sports Integrity: Declan Hill D.Phil, University of New Haven
Day 10 – 3h – Betting Integrity: Teacher to be designated
Day 12 – 3h – Technology and Sports Data: Santiago Asensi, founder and managing partner, Asensi Advogados Lorenzo Caci, Director of Business Development and Strategic Partnerships, Sport Radar AG
Day 17 – 3h – Taxation of Sports Betting. GGR or Turnover: Teacher to be designated
Day 19 – 3h – AML and CF: Becky Harris