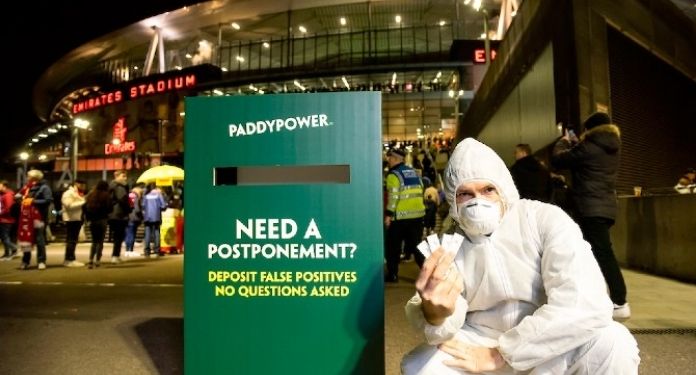 Paddy Power has joked about Liverpool FC's recent situation by placing a "false positive" box outside the Emirates Stadium ahead of the Arsenal game.
This comes after Liverpool reported an outbreak of Covid-19 in early January, with manager Jurgen Klopp and players Alisson, Joel Matip and Roberto Firmino contracting the virus.
The rise of Covid-19 cases prompted the club to request a postponement of the Premier League Cup semi-final first game with Arsenal last week, with the English Football League accepting the request.
Other tests, however, revealed that almost all Covid-19 results were recorded as false positives.
With this predicament, bookmaker Paddy Power, as usual, saw the funny side of things, putting the "false positive" box outside the stadium in North London for all to see.
"We know clubs just don't want to play some games, but coaches get grumpy when people question their reasons," said a Paddy Power spokesperson. "But don't worry Liverpool and Jurgen, Paddy's medical team is on hand to arrange these postponements for you."
"Just leave your 'false positive' tests in our special box and it doesn't matter if it's Covid, AFCON or your mom's birthday if you can't make it we'll make sure you never have to play a game you don't either no questions asked".
About Paddy Power
Paddy Power is a betting company that emerged from the merger of the stores of three Irish bookmakers: Stewart Kenny, David Power and John Corcoran in 1988. The company's headquarters are located in Dublin, Ireland.
As such, the company conducts its business through a network of licensed betting shops in the UK.
On the internet, the company offers sports betting, poker, bingo and classic online casino titles. Recalling that the company merged with Betfair to create Paddy Power Betfair, now Flutter Entertainment, on February 2, 2016.