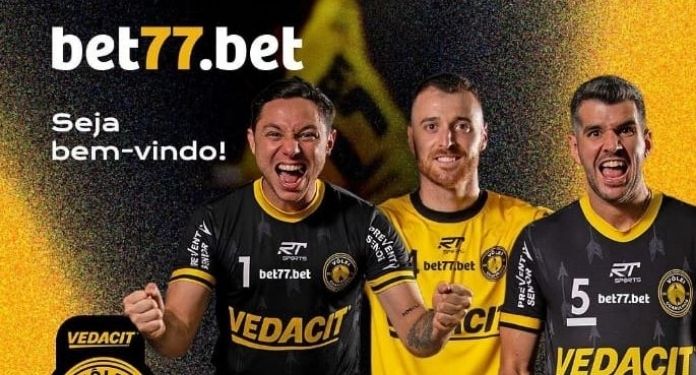 The sports betting brand Bet77, an online company of the Global Group, will have its brand stamped on the shirt of Vedacit Guarulhos. This Thursday, 20th, at 7 pm, the newest sponsor will be present in the volleyball team's uniform, during the quarterfinals of Copa Brasil, in the match against Sesi.
The sports president of Vedacit Guarulhos, Anderson Marsili, said that the contract with Bet77 is part of a phase of solidification of the team, which aims at the arrival of new partners and sponsors from 2022.
"We are very happy with this sponsorship, as it is part of a segment that has been dominating football and will certainly be surprised by the potential of volleyball," said Marsili.
Vedacit advanced to the Copa Brasil with fifth place in the Superliga and is currently in the fight for the G4.
"I have no doubt that we will make room for other companies to look at volleyball as a great communication tool. We just have to thank Bet77, Marcelo Lopes and the whole team for their trust in Vedacit Vôlei Guarulhos", added the manager.
Outros patrocínios da Bet77
Currently, Bet77 also sponsors the teams: Londrina Esporte Clube (PR), Globo Futebol Clube (RN) and Corinthians Fut7 (SP). Vedacit Guarulhos is the brand's first investment in volleyball.
Marcelo Lopes, CEO of Bet77, commented: "Volleyball is the second sport in the taste of the Brazilian public and, curiously, volleyball has not yet attracted the eyes of sponsors in the betting area, which caused me great surprise".
About the betting brand
Bet77.bet is an online entertainment site that offers players a unique sports betting experience. The brand is currently partnering with another Brazilian team, Campinense.
According to information on the official platform, Bet77 is operated by the company Bettergames Entertainment, an entity authorized by the Government of Costa Rica.