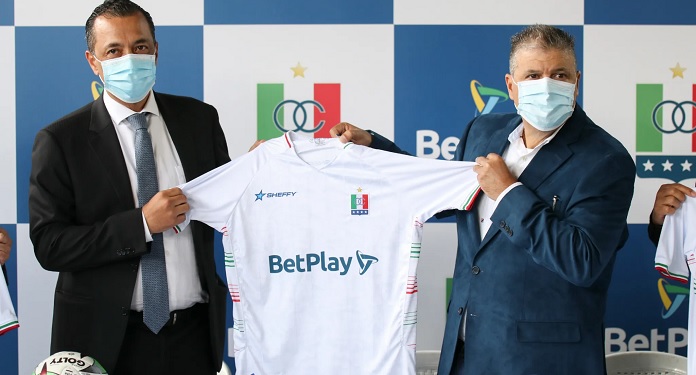 Sports betting company, Betplay has been officially presented as the new sponsor of Once Caldas, from Colombia. The event was held at the Palogrande stadium, the football club's headquarters, with the participation of directors from both organizations. The bookmaker's brand will appear on the team's uniform for the next three years.
Once Caldas president Tulio Mario Castrillón Tobón welcomed the representatives of the bookmaker, thanked them for their trust and stated that this alliance has everything to be positive for both parties. The manager also handed the club's shirt to the general manager of Corredor Empresarial, the company that owns Betplay, Germán Segura.
The executive of the betting company made a point of commenting after the signing of the agreement: "It is an honor to announce the arrival of another team to the BetPlay family: Once Caldas, a fierce and traditional group that always raises the level of Colombian football" .
In an official statement, BetPlay stressed that it is convinced of the importance that football represents for Colombians. Therefore, the bookmaker intends to continue to support the teams and the sport in general.
This new sponsorship comes at a moment of special pride for the executives of Corredor Empresarial in Colombia, as well as for their allies SuRed and SúperGIROS, who have already delivered three trophies to the winners of the BetPlay League.
Corredor Empresarial and its brands BetPlay and Súper Astro, through SuRed and SúperGIROS, work to offer the best service and entertainment experience to the user, in a process of continuous improvement of the platforms.
About Betplay
This is a brand created by Corredor Empresarial to operate betting, casino games and slot machines online or in person. Corredor Empresarial SA is a group that brings together the main gaming companies in Colombia, developed based on the experience of its members, which allows it to be at the forefront of the gaming and betting sector at a national level.