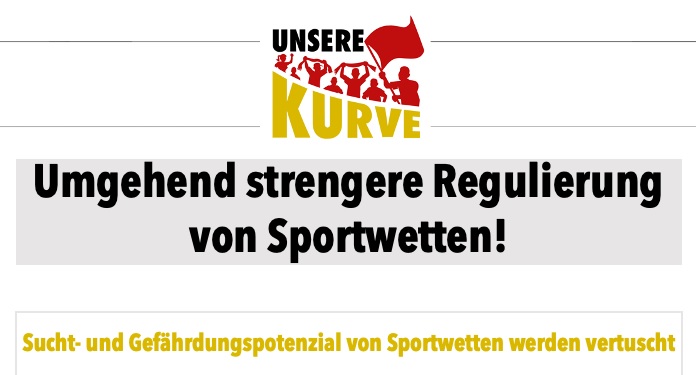 German supporters of the Unsere Kurve alliance ('Our Curve') have issued a set of demands for both the country's clubs and the Bundesrat regarding the sponsorship of bookmakers and TV advertising.
The organization has identified an 'increased media presence' of sports betting in Germany, particularly following the passage of the Fourth Interstate Treaty on Gambling (GlüNeuRStv).
Expressing concern about increasing public exposure to sports betting advertising – with the German Football Association (DFB) and several clubs maintaining betting partnerships – the group called on the authorities to "finally accept responsibility through political regulation and compromises". with football".
"Due to the type and placement of advertising, football fans and spectators will act as if sports betting is a natural part of football and fan culture," the statement reads.
"Advertising partners such as athletes, clubs and even the sports show give sports betting a serious image through their advertising platform and convey the message that they are harmless."
"Problematic gambling behavior is particularly widespread among football fans. And that is exactly what is promoted by sports betting providers, because they generate their immense profits mainly through frequent players."
The group's political demands include banning sports betting advertising in stadiums, in sports-related media and other industry-related areas, and banning operators from partnering with athletes, officials or other public figures.
In addition, Unsere Kurve called for a 'massive expansion' of prevention measures, expansion of spots dedicated to dealing with gambling addiction and the adoption of a new message – "Profits do not increase significantly through expert knowledge" – in betting sports.
Group sent specific demands to clubs and sports associations
A list of specific demands was addressed to sports clubs and associations, including calls for consistent initiatives to raise awareness of the risks of sports betting and a joint resolution by organizations to voluntarily withdraw from sports betting partnerships by July 1, 2022.
Likewise, the group requested that a ban on active athletes participating in sports betting be introduced starting this month – with professional football touted as the minimum requirement – ​​and that 50% of revenues from existing contracts with operators be directed towards the State, recognized treatment and prevention programs.
"We urge politicians to immediately regulate more closely the advertising of sports betting in public spaces and carry out intensive education and prevention," reads the group's official statement.
"We demand that football associations and clubs refrain from cooperating and signing contracts with sports betting providers. In the case of existing contracts, we require restrictions on the visibility of sports betting advertising, as well as financial participation in independent education and prevention work."
Unsere Kurve further stated that it represents the interests of fans of Bundesliga Mainz clubs such as Eintracht Berlin, VFL Bochum, Armenia Bielefeld, Union Berlin and FC Cologne.
The supporters' alliance's stance contradicts previous criticisms by Bundesliga clubs' management of the betting changes adopted by the GlüNeuRStv regime which are considered excessive for limiting the clubs' commercial capabilities.
In 2020, when the Bundestag finalized the federal structure of GlüNeuRStv. Former Bayern Munich board member Jörg Wacker criticized the Treaty by requiring lawmakers to reform it as it was deemed inadequate to serve Germany's multi-billion euro sports market.
Betting association has shown itself against new bans
Last November, the DSWV (German Sports Betting Association) stated that it would emphatically defy any request by GlüNeuRStv to enforce a ban on sports betting advertising.
Together with the German online casino trading body (DOCV) last summer, DSWV launched a complaint describing the tax regime as a discriminatory framework that favors holders of land-based casinos subsidized by the Bundesrat.
Furthermore, the DSWV warned the Bundesrat that it was forced to take action against the regime as the authorities reversed their promise to revise the treaty once implemented – forcing German online gaming companies and stakeholders to accept an impractical framework.