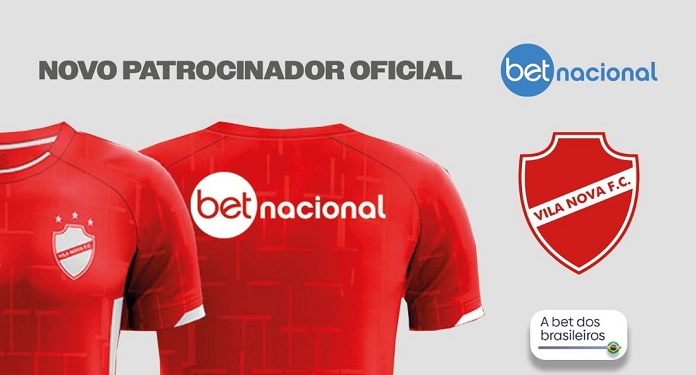 Sports betting company Betnacional closed a sponsorship deal with Vila Nova FC. Lasting until the end of the 2022 season, this partnership encompasses all tournaments played by the football club, such as the Brasileirão da Série B and the Campeonato Goiano. In addition, the agreement includes several brand activations that will be carried out throughout the year.
According to the terms of the agreement, Betnacional will have exposure on the upper back of the club's uniform, as well as the presence of its brand on Vila Nova's official website and social media.
Murilo Reis, Marketing Director of Vila Nova, celebrated the new commercial agreement for the season. "For us at Vila Nova it is very important to have a company the size of Betnacional as a sponsor of the club. Our great fans will embrace this giant and for sure we will have Betnacional as a partner for a long time", said
João Studart, director of Betnacional, also spoke after the signing of the contract. "Vila Nova is a great club, known as the 'most loved in the Midwest'. It has history on the national stage. Investing in a club the size of Vila is part of our strategy to expand Betnacional across the country. Betnacional is the 'bet' of all Brazilians".
Studart continued: "We are the betting site with the highest user retention in Brazil in 2021. To our bettors, we guarantee a quality, safe product with a quick return. Therefore, associating our brand with that of Vila Nova will further popularize Betnacional in the Midwest. And so we are doing in all regions of the country".
Betnacional also sponsors the 'Iron Trio'
In addition to this agreement with Vila Nova, the betting company also closed agreements to sponsor the 'Iron Trio' of Pernambuco football. Recently, Betnacional was announced as a sponsor of Sport, Santa Cruz and Náutico.