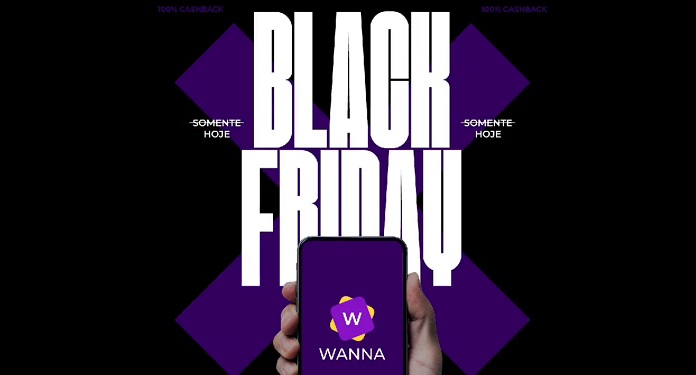 Black Friday has become a global event with promotions and special actions in the most different segments. Therefore, Wanna is taking advantage of the date to launch its own exclusive offer this Friday, 26th.
Therefore, the player who makes a deposit by 23:59 this Friday, 26th, will earn 100% cashback bonus, limited to R$250. But, it is important to note that the bonus can only be used once per user and is limited to R$250 per deposit.
Rules for Black Wanna Friday
The 'Black Wanna Friday' is only valid for players located in Brazil, and people outside the country are not eligible to receive the bonus. Additionally, the cashback bonus will appear in the bonus section of the player's wallet. And, money in the bonus section cannot be wagered or withdrawn, it can only be forwarded to the available balance.
Every time a player completes a bet, 10% of the amount they wagered will be transferred from their bonus area to their available balance. However, the bonus will not be transferred on bets that result in a tie. Once the amount is transferred to the player's available balance, it can be bet or withdrawn.
It is worth stressing that this bonus is individual and valid for all users. However, Wanna may deny verification to anyone in case of suspected fraud or use of third-party documents. The company can also contact the player by phone at any time to verify the identity of the person opening the account.
"Wanna values ​​the game that is legal, clean and fair, so we reserve the right to cancel the bonus if there is any irregularity", stated in an official statement.
About Wanna
The Wanna app recently arrived in Brazil. The product, without direct competitors in the country, is revolutionizing the means of placing bets and helping to change the image of an activity that is increasingly common throughout the world.
The aim of the developers is to privilege the players' individual knowledge in the online betting segment. Remembering that Wanna Brasil is available on IOS and Android systems, on the App Store and on the Google Play Store.