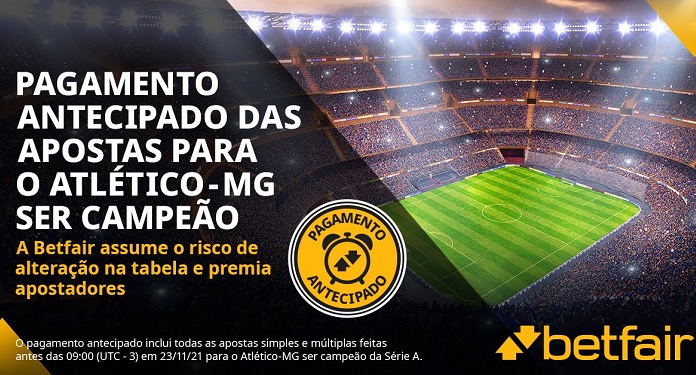 For Betfair, Atlético-MG is already champion of the 2021 Brasileirão. So, the bookmaker decided to make the "early payout" (early payout, in free translation) and has already deposited the amount in the account of the players who bet that Galo would win the title – even if it hasn't been officially confirmed yet.
But, it should be a matter of time for Galo to cry out 'he's champion', as he has a large advantage over Flamengo in second place. Betfair odds pay 1.03 for every dollar bet on the mining team, a 98% probability that Atlético will be champion.
With Flamengo, the main opponent in the dispute and runner-up in Serie A, fully focused on the decision of CONMEBOL Libertadores, the Minas Gerais team may soon confirm the title.
With favorable numbers and scenarios, the level of confidence is high and Betfair has decided to reward its players. Those who placed bets on the Minas Gerais club on the Betfair Sportsbook until 9 am on Tuesday, November 23, have already received the money for the anticipated celebration.
Bookmaker takes responsibility in case of turnaround in Brasileirão
In the final days of Brasileirão, Betfair made the payment before the match against Palmeiras, in São Paulo. But Flamengo is still in the fight and has mathematical chances to lift the cup. For this reason, the bookmaker's markets remain open to those who believe that every outcome is possible and a turnaround could still happen.
Atlético-MG's remaining games in Brasileirão are: Fluminense (at home), Bahia (away), Red Bull Bragantino (home) and Grêmio (away). If Rooster does not assert the favoritism and does not get the title, Betfair will assume responsibility for the decision and will make a new payment for those who have bet on Flamengo, the only team still likely to spoil the Minas Gerais party.
Remembering that bets placed on the Exchange also remain open until the end of the championship.
About Betfair
Betting company Betfair is the official sponsor of CONMEBOL Libertadores and CONMEBOL Sudamericana.