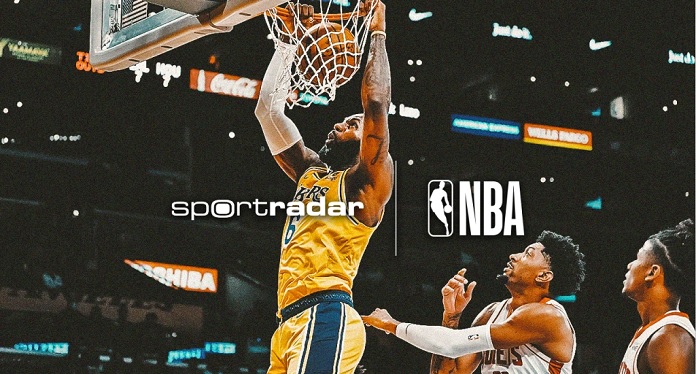 Sportradar has signed a long-term agreement with the National Basketball Association (NBA), resulting in a 10-year relationship formed by the remaining two years on their current contract, plus eight exclusive years.
The partnership also includes the Women's National Basketball Association (WNBA) and the NBA G League, which will draw on the company's resources to expand its US operations, increase its international presence and promote fan engagement.
The cooperation will begin in the 2023/24 NBA season and provide the NBA with an equity interest in Sportradar. The contract also maintains Sportradar as the exclusive provider of NBA and NHL data around the world, helping fans engage in the leagues.
The new arrangement also includes expanded distribution rights regarding the use of player tracking data, with Sportradar ready to establish a team dedicated to innovating and transforming the fan experience.
Projections for 2021 are expected to show the NBA generating 50% more football than expected, with amounts equivalent to €112 billion in betting volume worldwide, compared to an expectation of €41.87 billion.
"We are delighted that the NBA has chosen Sportradar as the official partner that can support the global popularity and explosive growth of the game," said Carsten Koerl, Sportradar's global CEO.
"Basketball is the biggest US sport in the world in popularity and, as a market leader, we are best positioned with the technological expertise and industry relationships to help the NBA entertain fans around the world," he added.
Sportradar's partnership with the basketball league started in 2016
The deal expands the relationship between Sportradar and the NBA, which began in 2016 when the group was named Official Provider of Basketball League Statistics in real time.
Scott Kaufman-Ross, senior vice president, head of games and new business ventures for the NBA, commented, "Sportradar has been an incredible partner as the league has expanded its exploration of the global sports betting scene."
"As the market matures, we are excited to extend our partnership with Sportradar to leverage data and insights to create new fan experiences and innovate around the NBA globally," he concluded.