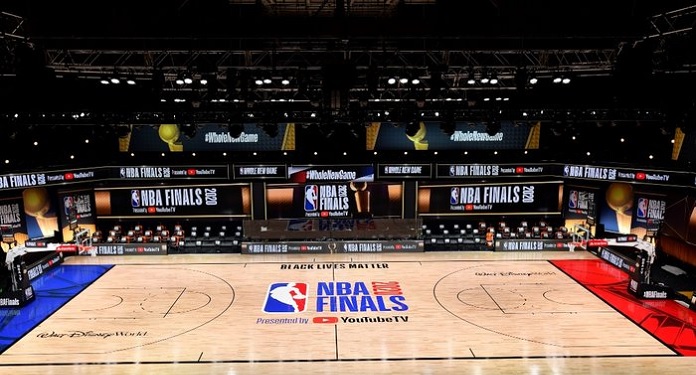 The NBA will continue to veto the advertising of bookmakers on basketball team jerseys. The theme again attracted attention in the US sports scene after the announcement of a partnership between Washington Capitals, of the NHL, and Caesars Sportsbook. Starting next season, the group's brand will appear on the hockey team's uniform.
"We have restrictions because we see what happens internationally. Italy and Spain are markets where all sports betting ads are banned. The UK has an advertising ban that is in effect during the match. The time is coming when they're going to have to take the marks off their shirts," said NBA Senior Vice President of Fantasy Sports Scott Kaufman-Ross.
NBA teams are already partners with bookmakers
The country authorized the participation of bookmakers in 2018, which encouraged partnerships between companies in the sector and sports clubs and entities. According to an article on the MKT Esportivo portal, the NBA quickly forwarded an agreement with MGM Resorts.
In the American League, the Washington Wizards and Phoenix Suns decided to explore sponsorships in their arenas, however, without involving the uniforms. While Betway has ties to several NBA teams such as Brooklyn Nets, Chicago Bulls, Cleveland Cavaliers, Los Angeles Clippers and Golden State Warriors. However, these contracts do not mention team shirts.
Despite this, the NBA executive believes that banning gambling would not resolve the issue either. "We're just monitoring all this and being cautious. We didn't think it was the right time to open sponsorship in that scenario. Some leagues are more permissive on some things and less on others. We don't judge anyone for what they're trying to do. We didn't think it was the right time for the NBA, and we'll see where we go from there," he commented.
He added: "If you make gambling illegal, people will find a way to do it illegally. And that's why we changed our position. What we found is that the federal ban on this only serves to push this activity underground, it doesn't eliminate this activity, it just pushes it to a place where we can't monitor it and there's no transparency."