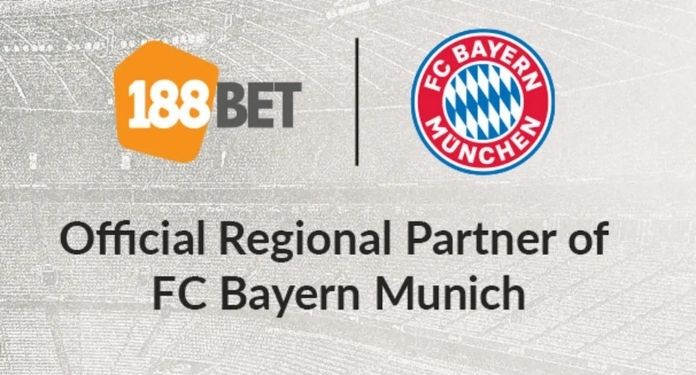 188BET will become FC Bayern Munich's Regional Betting Partner in Asia. The three-year deal will see both brands work together to engage with Asian sports fans.
The main pillars of the collaboration will be the brand's digital assets, player content and brand promotion through virtual advertising in the Allianz Arena.
Rouven Kasper, president of FC Bayern München Asia, said: "We are thrilled to welcome 188BET into the FC Bayern family as a regional partner and we are very much looking forward to working together to bring great experiences to our Asian fans."
"Our aim is to create a strong relationship and I am sure that the joint cooperation between the two brands will create incredible moments together. We are very happy to be a part of this journey," concluded Kasper.
Nigel Singer, managing director of 188BET, added: "We are happy to partner with FC Bayern Munich and to bring the enthusiasm of the most successful club in the history of German football to audiences in Asia."
"With such a rich heritage and a global fan base, FC Bayern Munich and the Bundesliga have a lot to offer our customers and we look forward to a successful partnership over the next three years," concluded Singer.
About FC Bayern
German record-setting champions play an active role in Asia, organizing youth initiatives and fan events. The first team played several matches in Asia in recent years, in China (Beijing, Shanghai and Singapore) in 2015 and in China (Shanghai and Shenzhen) and Singapore in 2017.
In addition, two international offices in the focus markets USA (New York) and China (Shanghai) reinforce the international activities of the German record-setting champions.
FC Bayern currently has more than 997 million interested parties worldwide, 510 million of which are located in Asia.
About 188BET
188BET is one of the leading gambling sites licensed and regulated by the Isle of Man Gaming Oversight Commission.
188BET offers multi-lingual betting on a wide range of products including Sports, Progressive Slots, Casino, Poker and more.