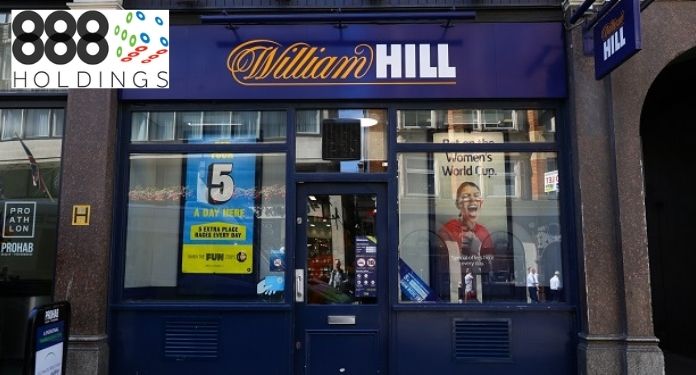 888 Holdings CEO Itai Pazner confirmed the "extremely exciting acquisition of William Hill's 'non-American' businesses from Caesars Entertainment for £2.2 billion."
The deal, which was reported earlier this week, is expected to deliver "significant operating efficiencies", including pre-tax synergies of at least £100m a year, which 888 says will lead to improved profit margins.
On a normalized basis, Enlarged Group's annual revenue and adjusted EBITDA in 2020 would have been $2.5 billion and $464 million, respectively.
Pazner commented, "The acquisition of William Hill International is a transformative and extremely exciting time in 888's history. This transaction will create one of the world's leading online gaming and betting groups with superior scale, exceptional brands, greater diversification and a platform to strong growth".
"William Hill is an iconic sports brand, making it an ideal complement to 888, one of the world's leading online gaming brands. Our strategies are also complementary, being digitally led, customer focused and committed to player protection and with the raising of industry standards around safer gaming."
"We are also excited about the opportunities that the Retail business offers and we see significant benefits of the brand for Grupo Enlargado from its great assets."
Pazner added that 888 was 'incredibly impressed' with the William Hill management team and hopes to create great products for customers, driven by best-in-class technology, powerful brands and benefiting from our significantly improved scale.
888 Holdings Chairman of the Board Jon Mendelsohn added: "This acquisition is an incredible opportunity to combine our world-class gaming brand with a unique and iconic sportsbook brand to create a global leader in the sports betting and gaming industry online".
"We believe the acquisition will create significant shareholder value, creating a business combined with leading technology, products and brands in sports betting, gaming and poker, backed by high-quality management talent from both businesses."
An acquisition with great synergy
William Hill International CEO Ulrik Bengtsson said the strategies of William Hill and 888 Holdings are highly complementary, with an absolute focus on the product and customer experience. "Scale is increasingly important in our industry and the business combination will provide a powerful alignment of brands and technology."
"This transaction is a testament to the progress William Hill has made over the past two years, our relentless focus on customer, team and execution and, most importantly, the dedication and commitment of William Hill colleagues."
"I am immensely proud of what we have achieved and would like to take this opportunity to thank all of our colleagues who made this possible. I look forward to working with 888 as we transition to the new ownership structure."
To finance the acquisition, 888 Holdings obtained fully committed debt financing from JP Morgan, Morgan Stanley and Mediobanca of approximately £2.1 billion, which includes approximately £1.6 billion of term loans and approximately £500 million of loans -bridge/ senior guaranteed notes.
888 has also secured a fully committed revolving credit line of £150 million.
To create a more beneficial long-term capital structure, 888 expects to raise approximately £500m of gross income through the issuance of new capital through a capital raising to be carried out at an appropriate time so that the leverage ratio net pro forma is less than 4x.
888 Holdings' expectations
888 Holding said the acquisition would provide "substantial value creation" to shareholders from pre-tax cost synergies of at least £100 million per year, along with potential revenue growth from an improved proposal for the customer and product offerings.
It currently expects to cumulatively achieve approximately £10 million of such synergies in 2022, £54 million in 2023, £69 million in 2024 and £100 million in 2025, including £15 million in capex synergies.
The deal represents some interesting deals from US gaming giant Caesars Entertainment, which only bought the William Hill Group in April for £2.9 billion. This divestiture now means it has essentially acquired William Hill's US assets for £700m in a market where valuations are high, in anticipation of massive growth in sports betting.
Tom Reeg, CEO of Caesars Entertainment, commented, "I would like to personally thank Ulrik and the entire William Hill team for their professionalism and dedication while they were part of Caesars and particularly during the sales process."
"I'm delighted that, as we said we would when we announced the offer for William Hill PLC, we found an owner for the William Hill business outside the US who shares the same goals, approaches and long-term ambitions as that business," concluded Reeg.