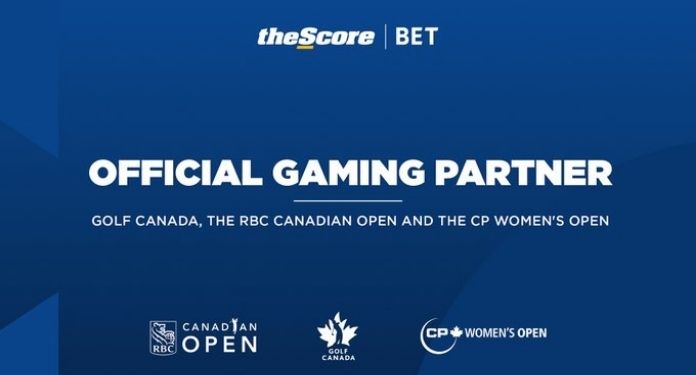 Score Media and Gaming Inc, a subsidiary of theScore Bet, has been named as Golf Canada's official betting partner as part of a multi-year agreement between the two organizations.
The unique collaboration makes theScore Bet the first gaming partner of Golf Canada and its prestigious National Open Golf Championship – the CP Women's Open and the RBC Canadian Open.
Effective in 2022, the partnership allows theScore Bet to activate Golf Canada's top-level events with a large digital 'footprint'. As an exclusive partner of the RBC Canadian Open and CP Women's Open, the brand will be able to engage fans through a variety of onsite activations.
These include member club experiences for theScore Bet users, as well as digital activations through Golf Canada's tournaments and channels.
Golf Canada Commercial Director John Sibley commented: "We are excited to welcome theScore Bet as Golf Canada's first Official Gaming Partner. theScore brand is already synonymous with sports coverage in Canada and we are excited about the opportunity to join come together to help build awareness for theScore Bet."
"Through Golf Canada properties and entertainment channels, theScore Bet will have direct access to engage with our great members of devoted Canadian sports fans," concludes Sibley.
Aubrey Levy, Senior Vice President of Content and Marketing for theScore, added: "We are proud to be Golf Canada's first gaming partner and to align theScore Bet with its organization and with the Canadian marquee's men's and women's professional golf events ".
"This partnership provides us with highly engaging hotspots to introduce theScore Bet to a broad and endemic audience of golf fans. With the RBC Canadian Open running in Ontario every three years and the CP Women's Open in the province for at least the next year, it provides us with an incredible base to interact with Canada's passionate golf community around two of the country's most popular golf events."
The 2022 RBC Canadian Open will be held June 6-12 at St George's Golf and Country Club in Toronto, with neighboring Islington Golf Club hosting the championship practice facility. The 2022 CP Women's Open Open will be held August 22-28 at the Ottawa Hunt and Golf Club in Ottawa.
In March 2021, theScore Bet was named Official Betting Operator for the PGA TOUR throughout the United States and Canada, pending the enactment of permitting legislation and regulations, and receipt of all necessary regulatory approvals.