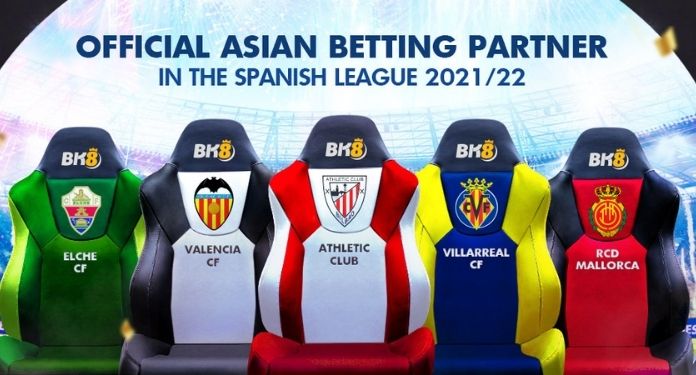 Online betting brand BK8 Sports has secured five sponsorships from Spanish LaLiga clubs targeting the Asian market. Therefore, BK8 will become the official betting partner of Valencia, Club Atlético de Bilbao, Villarreal CF, RCD Mallorca and Elche CF for the 2021-22 season.
"These new deals are really exciting for BK8 and represent a great moment for us as a brand to be able to start achieving some of our goals by working closely with football-related partnerships," said Michael Gatt, MD for Europe at BK8.
"We are working with a range of football players across Europe right now so that we can continue on this positive trajectory and help us invest not just in clubs, but also in the charities and community that share our ambition to make the difference. difference in football".
"This partnership with some of Spain's elite football institutions puts us on the map of Europe and we hope to have a successful relationship with all of them."
As part of the deals, BK8 will have a branding package on the clubs' digital and social media platforms in Asian markets, in addition to giving players access to promotions in the region.
"Valencia is a global brand and Asia is an important market for us. We hope that with this agreement with BK8, our presence in Asia will continue to grow," commented Anil Murthy, President of Valencia CF.
"We are very pleased with this partnership agreement in Asia. We hope it will be beneficial and positive for both parties and, as a global sports entity, it will help us gain a presence in such an important continent," said Fernando Roig, President of Villarreal.
BK8 Sports already has a history in the Asian market
BK8 has a strong presence in the Asian betting market and aims to increase the visibility of its brand and customer base through partnerships and sponsorships.
The brand also hopes to be able to use these partnerships to introduce the cryptocurrency to a wider audience. Last year, the company launched its own cryptocurrency payment method to support currencies such as Bitcoin and Ethereum.