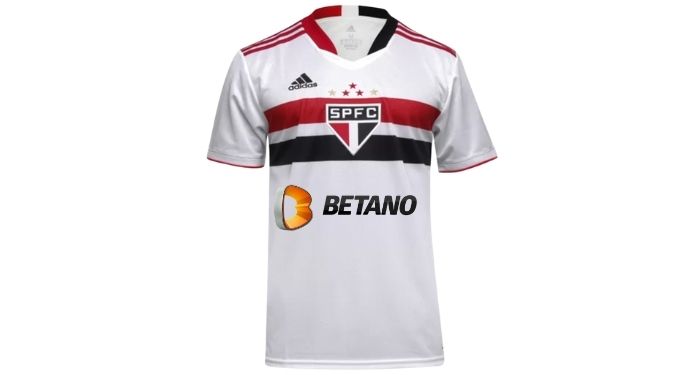 The São Paulo board has been negotiating with some companies interested in sponsoring the club for a few months. One of the candidates is the Betano bookmaker, which will be able to stamp its brand in the most valued space of the football team's uniform. Besides her, President Julio Casares also deals with Amazon and LG.
The last two companies have already closed specific actions with São Paulo in recent months. A partnership with LG focused on the decision of the Campeonato Paulista, a title won over rival Palmeiras, brought in 1 million reais to the club's coffers.
While Amazon paid 1.5 million in a sponsorship contract valid for three matches: one game already played, the last one in the first phase of the Libertadores, and the other two games referring to the round of 16 of the South American competition. The team from São Paulo will take the field on July 13th and 20th to face Racing, from Argentina.
Thus, the main novelty is Betano, a betting group that is arriving in the Brazilian market. Recently, the bookmaker closed deals to become the main supporter of Atlético-MG and Fluminense. The company also has agreements with teams from abroad, such as Braga, Maritimo, Olympiacos, Paok, among others.
São Paulo is talking to the companies and is not yet close to an official announcement.
"We're not close to closing with any of the three companies yet. But there are conversations," reveals a source on the SPFC.NET Blog.
However, the board intends to resolve this situation as soon as possible, but insists on reaching at least 16 million reais per season. The former master sponsor of Tricolor, Banco Inter injected 12 million a year.
About Betano
It is a company in the betting sector linked to Kaizen Gaming, a group that does business in Brazil, Germany, Romania, Greece, Cyprus and Portugal. With the intention of gaining more and more visibility in the country, Betano was one of the sponsors of this year's Campeonato Carioca. In addition to sports betting, the platform offers other verticals, such as casino, scratch cards and live betting.