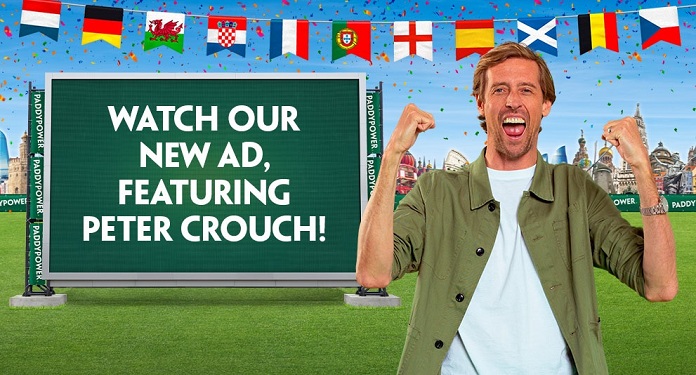 After five years, the Euro Cup is finally coming! Bookmaker Paddy Power believes this is a time to celebrate. Therefore, the company launched a new TV campaign. Former English football player Peter Crouch is the star of the ad and has the company of a vast cast.
The ad also kicks off the 'Switch for Better' campaign aimed at Euro 2020, where the bookmaker is offering new players a £5 free bet on all the group's games in England. As Crouch says, "if the grass looks greener, join in the fun".
And, who better than a much-traveled gunner to show the benefits of changing places eventually? After all, good deals only happen to those who are always looking for the best opportunities! The commercial also features several fans wearing the jerseys of various teams that Crouch played during his career.
There are people in uniform from Tottenham, Queens Park Rangers, Liverpool, Portsmouth, among others. And an international reference when the former player passes by Declan's Bar, which may or may not be related to the change of national loyalty of a West Ham midfielder. That's because Declan Rice, from West Ham, who has played for Ireland, must defend England in this 2020 Euro Cup.
In addition, Crouch also passes by a German fan and wraps him in an English flag and speaks "Es kommt nach Hause" in German for "He's coming home". At the end of the advertisement, the star appears celebrating with a crowd of fans from England with a final message encouraging everyone to enjoy the edition of the European Championships.
Paddy Power encourages fans to 'win by changing for the better'
"Peter Crouch is always a pleasure to work with, and we shouldn't be surprised that a star who can ride a bike on the field and dance like a robot is natural in front of the cameras. He can just be a better actor than a football player, you know, "says the official Paddy Power note.
The statement goes on: "And, as Crouchy says in the ad, there is a lot to gain by changing for the better – when Declan Rice ends up winning the Euro, it will be painful to recognize that he was right."