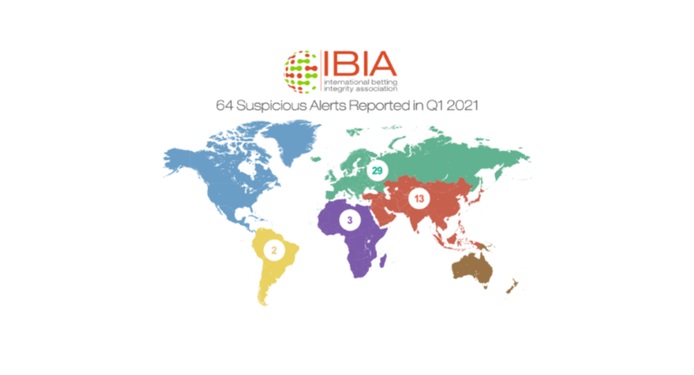 The International Betting Integrity Association (IBIA) reported 64 cases of suspicious betting to the authorities during the first quarter of 2021. The number in the first quarter is similar to the 68 alerts recorded in the last three months of last year and the 61 notifications recorded in the first three months. 2020.
Tennis (18), eSports (17) and football (12) accounted for almost 75% of all reports throughout this quarter, with the remainder involving table tennis (7), basketball (5), volleyball (4) and running of horses ( 1). Europe and Asia accounted for two-thirds (66%) of alerts.
Khalid Ali, CEO of IBIA, said: "After a difficult 2020 year, many operators appear to be close to normal in terms of their market offer before the pandemic. This is reflected in the numbers of alerts and in the geographical distribution for the first quarter, with a reorientation towards sports that traditionally and numerically dominate the offer of bets worldwide, especially tennis and football ".
Ali added: "The association and its members continue to work closely with these sports, and indeed all sports that wish to become involved with us, to identify corruption and seek robust sanctions to punish and prevent these illicit activities."
Important data for the first quarter of 2021:
7 – alerts in the first quarter covered seven different sports;
16 – a quarter of all alerts came from Russia (10) and Bulgaria (6);
18 – alerts in the tennis modality;
20 – different countries presented suspicious bets.
https://twitter.com/IBIA_bet/status/1387386202295263239
About IBIA
The International Betting Integrity Association is a global benchmark in integrity for the licensed betting industry. It is formed by operators, protecting their members from corruption through collective actions.
In addition, the monitoring and alerting platform is a highly effective anti-corruption tool that detects and reports suspicious activity in its members' betting markets.
The entity has information sharing partnerships with the main sports and games regulators. The IBIA also represents the sector in high-level policy discussion forums, such as the IOC (International Olympic Committee), the UN, and the European Commission.