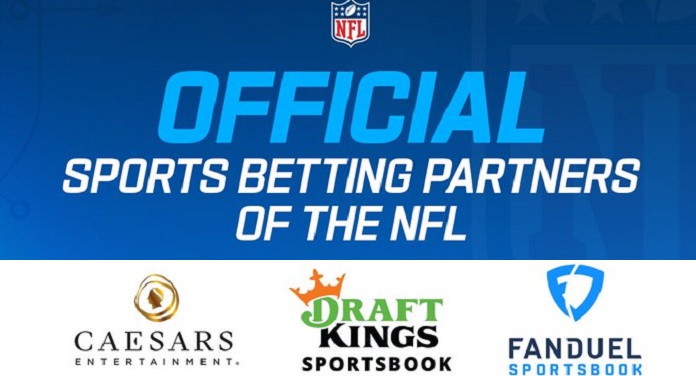 The NFL (National Football League) closed its first deals aimed at the sports betting market in the United States. The American football league has partnered with Caesars Entertainment, DraftKings and FanDuel, which have earned the status of "official sports betting partners".
According to the terms, the three brands are entitled to use the league's assets in the sports betting modality and explore both in the retail chain and in online betting. Companies will also be able to expand their relationship with fans with free games with themes related to the sport.
"On Superbowl Sunday, we got a glimpse of how the combination of the excitement of the NFL and our platform can be powerful to provide an experience for fans. We are delighted to make this combination official, combining America's No. 1 sports betting with America's No. 1 sports league, "said Matt King, CEO of FanDuel.
King added: "This partnership offers our customers a new level of innovation and unparalleled premium content directly on our platform, improving every game day."
https://twitter.com/FanDuel/status/1382794498678398977
In addition, Caesars, DraftKings and FanDuel will be able to integrate betting material directly into NFL Media properties, covering the official website and the application.
According to the MKT Esportivo website, DraftKings and FanDuel will also improve their dynamics with fans with highlights of the league, filming and differentiated content. While Caesars and the NFL will cooperate in the integration of material for both platforms.
https://twitter.com/DraftKingsNews/status/1382791304665452545
Operators adhere to the NFL's sporting integrity policy
"As the sports betting landscape continued to evolve in the United States, we thought about our strategy and are excited to announce three partners who share the NFL's vision and goals," said Renie Anderson, vice president of partnerships for the NFL
Anderson added: "Working closely with Caesars, DraftKings and FanDuel, we will provide fans with new and different ways to interact and engage with the sport they love."
https://twitter.com/CaesarsEnt/status/1382792751650062337
In order to support the NFL's commitment to ensuring sporting integrity, the three brands have agreed to adhere to the league's integrity guidelines and will assist in sharing intelligence and raising awareness about responsible gambling.
American media pointed out that if all five-year contracts are fulfilled to the end, the NFL is expected to receive about $ 1 billion.
https://twitter.com/NFL/status/1382791248411455488