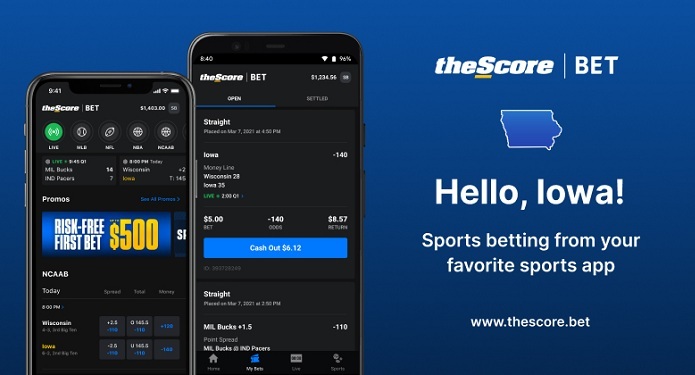 Score Media and Gaming (theScore) reported a record turnover of $ 109.5 million for the six-month period ended February 28, 2021, the first half of its financial year, but the operator's net gaming revenue remained negative .
This figure represents an increase from the 22.6 million dollars in the same period last year. But overall revenue declined from 2020 to $ 14.1 million (below $ 15.9 million), including negative net gaming revenue of $ 4.4 million, an increase in losses in the first half of 2019- 20.
This net gaming revenue – after accounting for unsettled promotions and bets – came on gross gaming revenue of $ 96,000, down 86%. Media revenue, however, rose 15.5% to $ 18.6 million.
Most of theScore's overall revenue of $ 8.3 million came from Canada, while US revenue decreased 39.6% to $ 5.8 million.
Significant operating costs, totaling $ 39.2 million, contributed to an overall loss of $ 25 million. Since US $ 6 million was spent on the development of new products and content, while sales and marketing, administrative costs and technology represented US $ 10 million each.
TheScore betting platform already operates in four U.S. states
TheScore Bet's Iowa launch in February extended the reach of the company's mobile sports betting platform to four states, creating an entirely new revenue stream.
TheScore President and CEO John Levy said: "We are successfully building our player base and leveraging our media audience, while receiving new users on our platform, as demonstrated by increases in game management this quarter , including a jump of almost 200% in New Jersey compared to the previous year. "
Levy added, "Through our recent contract with Caesars Entertainment, we now have access to the sports betting market in Illinois, the sixth most populous state in the United States."
Canadian market may help expand company revenue soon
Despite this, there was a decrease in revenue from non-Canadian sources during 2021 to $ 5.8 million, from $ 9.6 million a year ago.
Canadian products, on the other hand, raised $ 8.3 million ($ 2 million more than 2020), and the pending release of sports bets on unique events in the country may further leverage that number soon. Levy and theScore showed support for the bill to allow such bets on the Canadian market.