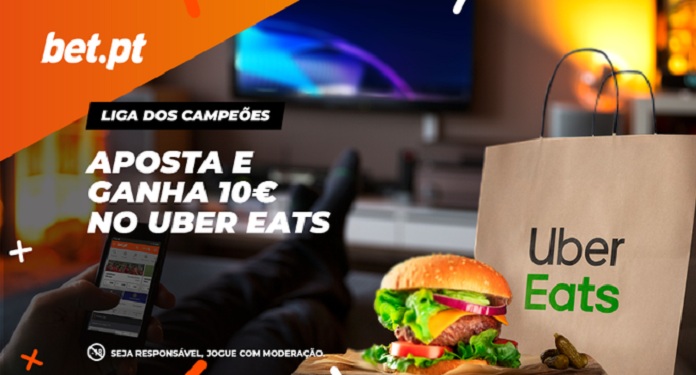 Bet.pt players who place a bet with a minimum value of 10 euros, simple, pre-game with odds equal to or greater than 2.00 in any of the first matches of the quarterfinals of the European Champions League, can win a free meal.
The online betting company has announced an agreement with the Uber Eats delivery service to offer discount vouchers worth 10 euros. For this reason, a campaign was developed with the theme "Get in the game – Uber Eats bet.pt offer", valid until this Wednesday, April 7th.
Therefore, bettors have until that date to join the promotion, and this discount will be granted through a code sent via SMS. However, the player can use this discount until the 18th of April. According to the betting company, vouchers are only accessible to fans who have registered with the Uber Eats app and Bet.pt.
"These partnerships are always very important because they reveal that we are willing to provide our online players with new experiences and dynamics of online betting," said Pedro Garcia, Bet.pt's marketing director.
Pedro also stated, in a statement, that the new promotion tends to help increase the amount of bets, with the Champions League clashes as the main attraction.
"It turns out to be a way to boost our offer, in partnership with other service platforms that are very popular at the moment in our country", concluded the bookmaker director.
https://twitter.com/betpt/status/1379470202753060865
About Bet.pt
Bet.pt is authorized by the regulatory body to operate legally in Portugal. The company provides players with the opportunity to place various types of sports and casino bets in a completely secure environment.
The Portuguese bookmaker also includes bets on the Premier League, Serie A, La Liga, Ligue 1, Bundesliga and major tennis tournaments on the planet.